Paulette Jiles
News of the World
Tuesday, October 11th 2016
6:00-8:00 pm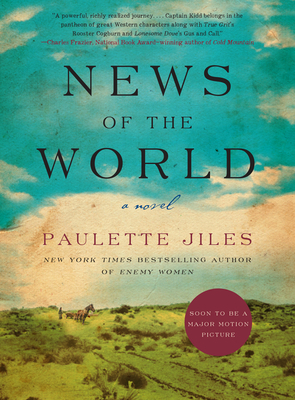 About Paulette Jiles: Paulette Jiles was born in Salem, Missouri, in the Missouri Ozarks. Raised in small towns in both south and central Missouri, she attended three different high schools, an exhausting process of social dislocation and fashion wobbles, and with relief graduated from the University of Missouri (KC) in Romance Languages. After graduation she worked for the Canadian Broadcasting Corporation in Toronto and in the far north of Ontario and in the Quebec Arctic, helping to set up village one-watt FM radio stations in the native language, Anishinabe and Inuktitut. She became reasonably conversant in Anishinabe but Inuktitut was just too much. Very hard. Besides she was only in the eastern Arctic for a year. Work in the north lasted about ten years all told.

She taught at David Thompson University in Nelson B.C. and grew to love the British Columbian ecosystems and general zaniness. She spent one year as a writer-in-residence at Philips Andover in Massachusetts and then returned to the United States permanently when she married Jim Johnson, a Texan. Has lived in Texas since 1995.

She and her husband renovated an old stone house in the San Antonio historic district and amidst the rubble and stonemasons and ripped-out electrical systems she completed Enemy Women. She now lives on a small ranch near a very small town in the Texas Hill Country with two horses and a donkey. If you want a free donkey, please let her know. She is at present working on a dystopian trilogy, learning the pennywhistle and singing alto with a very amateur bluegrass band. Her next book, News of the World, will be out in January 2016 with Harper Collins.
About News of the World:
It is 1870 and Captain Jefferson Kyle Kidd travels through northern Texas, giving live readings to paying audiences hungry for news of the world. An elderly widower who has lived through three wars and fought in two of them, the captain enjoys his rootless, solitary existence.
In Wichita Falls, he is offered a $50 gold piece to deliver a young orphan to her relatives in San Antonio. Four years earlier, a band of Kiowa raiders killed Johanna's parents and sister; sparing the little girl, they raised her as one of their own. Recently rescued by the U.S. army, the ten-year-old has once again been torn away from the only home she knows.
Their 400-mile journey south through unsettled territory and unforgiving terrain proves difficult and at times dangerous. Johanna has forgotten the English language, tries to escape at every opportunity, throws away her shoes, and refuses to act "civilized." Yet as the miles pass, the two lonely survivors tentatively begin to trust each other, forging a bond that marks the difference between life and death in this treacherous land.
Arriving in San Antonio, the reunion is neither happy nor welcome. The captain must hand Johanna over to an aunt and uncle she does not remember—strangers who regard her as an unwanted burden. A respectable man, Captain Kidd is faced with a terrible choice: abandon the girl to her fate or become—in the eyes of the law—a kidnapper himself. Exquisitely rendered and morally complex, News of the World is a brilliant work of historical fiction that explores the boundaries of family, responsibility, honor, and trust.
Event date:
Tuesday, October 11, 2016 -

6:00pm

to

8:00pm
Event address:
306 Pearl Parkway
Suite 106

$22.99
ISBN: 9780062409201
Availability: Usually Ships in 1-5 Days
Published: William Morrow - October 4th, 2016
---