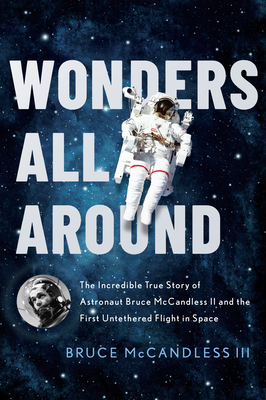 Bruce McCandless III grew up in the shadow of Houston's Johnson Space Center during the Apollo and Skylab eras. He graduated from the Plan II Honors Program of the University of Texas in 1983 and went on to earn advanced degrees from the University of Reading in England and the University of Texas School of Law. After teaching at Saint David's School in New York City, he returned to Austin to practice law in 1995. He is the author of Sour Lake (2011), Beatrice and the Basilisk (2014), and, with his daughter Carson, Carson Clare's Trail Guide to Avoiding Death (And Other Unpleasant Consequences) (2017). Bruce serves on the board of directors of the Worthy Garden Club, an Oregon-based environmental organization, and the Austin Public Library Foundation. He and his wife, Pati McCandless, live in Austin.
About Wonders All Around:
It's one of the most powerful and popular images in the history of space exploration: an astronaut in a snow-white spacesuit, untethered and floating alone in an expanse of blue. Bruce McCandless II is the man in that spacesuit, and Wonders All Around: The Incredible True Story of Astronaut Bruce McCandless II and the First Untethered Flight in Space is the thoroughly engrossing, extensively researched story of his inspiring life and groundbreaking accomplishments, as told by his son, a gifted writer and storyteller.
Bruce McCandless II, a Navy fighter pilot, joined NASA in 1966. He was Houston's capsule communicator--the person talking to the astronauts--as Apollo 11's Neil Armstrong made his giant leap for mankind in 1969. McCandless supported subsequent Apollo flights and developed technology and techniques his fellow astronauts used during the Skylab program, working behind the scenes until he was chosen to ride Challenger into space on the tenth shuttle mission. When he stepped into the cosmos to test the Manned Maneuvering Unit, he became a space flight icon. But the road to that incredible feat was not the sure bet it should have been for such a gifted man.
Bruce McCandless II was an astronaut for 24 years, and his story encompasses the development of the space agency itself--the changes in focus, in personnel, in approach, and in the city of Houston that grew up with it.
Wonders All Around is more than a catalogue of McCandless's extraordinary achievements, which included work on the design, deployment, and repair of the Hubble Space Telescope. It is also a tale of perseverance and devotion.
Recounted with insight and humor, this book explores the relationship between a father and a son, men of two very different generations. And finally, it is an exploration of the mindset of one unique individual, and the courage, imagination, and tenacity that propelled him and his country to their place in the forefront of space history.
Event date:
Saturday, October 30, 2021 -

11:00am

to

1:00pm
Event address:
306 Pearl Parkway
Suite 106

$24.95

ISBN: 9781626348653
Availability: On Our Shelves Now
Published: Greenleaf Book Group Press - July 13th, 2021
The Man You Never Knew You Knew
---