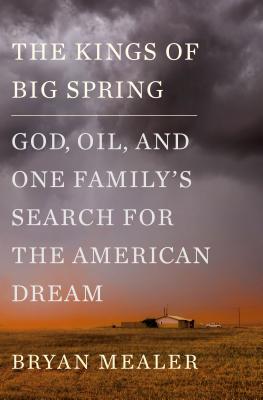 Bryan Mealer is the author of Muck City and the New York Times bestseller The Boy Who Harnessed the Wind - written with William Kamkwamba - which has been translated into more than a dozen languages and will soon be released as a major motion picture. He's also the author of All Things Must Fight to Live, which chronicled his time covering the war in the Democratic Republic of Congo for the Associated Press and Harper's. His other work has appeared in Texas Monthly, Esquire, the Guardian, and the New York Times. Mealer and his family live in Austin.
About The Kings of Big Spring: God, Oil, and One Family's Search for the American Dream:
A saga of family, fortune, faith in Texas, where blood is bond and oil is king...
In 1892, Bryan Mealer's great-grandfather leaves the Georgia mountains and heads west into Texas, looking for wealth and adventure in the raw and open country. But his luck soon runs out. Beset by drought, the family loses their farm just as the dead pastures around them give way to one of the biggest oil booms in American history. They eventually settle in the small town of Big Spring, where fast fortunes are being made from its own reserves of oil. For the next two generations, the Mealers live on the margins of poverty, laboring in the cotton fields and on the drilling rigs that sprout along the flatland, weathering dust and wind, booms and busts, and tragedies that scatter them like tumbleweed. After embracing Pentecostalism during the Great Depression, they rely heavily on their faith to steel them against hardship and despair. But for young Bobby Mealer, the author's father, religion is only an agent for rebellion.
In the winter of 1981, when the author is seven years old, Bobby receives a call from an old friend with a simple question, "How'd you like to be a millionaire?"
Twenty-six, and with a wife and three kids, Bobby had left his hometown to seek a life removed from the blowing dust and oil fields, and to find spiritual peace. But now Big Spring's streets are flooded again with roughnecks, money, and sin. Boom chasers pour in from the busted factory towns in the north. Drilling rigs rise like timber along the pastures, and poor men become millionaires overnight.
Grady Cunningham, Bobby's friend, is one of the newly-minted kings of Big Spring. Loud and flamboyant, with a penchant for floor-length fur coats, Grady pulls Bobby and his young wife into his glamorous orbit. While drilling wells for Grady's oil company, they fly around on private jets and embrace the honky-tonk high life of Texas oilmen. But beneath the Rolexes and Rolls Royce cars is a reality as dark as the crude itself. As Bobby soon discovers, his return to Big Spring is a backslider's journey into a spiritual wilderness, and one that could cost him his life.
Event date:
Monday, February 12, 2018 -

5:00pm

to

7:00pm
Event address:
306 Pearl Parkway
Suite 106

$27.99
ISBN: 9781250058911
Availability: Hard to Find
Published: Flatiron Books - February 6th, 2018
"Think of it as a Texas version of Hillbilly Elegy."
— Bryan Burrough, New York Times bestselling author of THE BIG RICH and BARBARIANS AT THE GATE

"Bryan Mealer has given us a brilliant, and brilliantly entertaining, portrayal of family, and a bursting-at-the-seams chunk of America in the bargain."
---