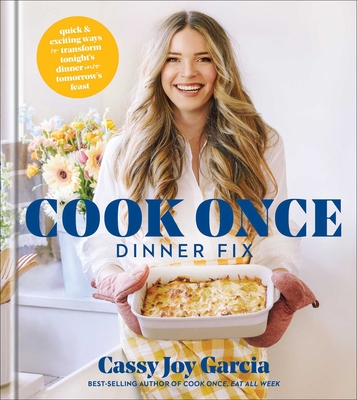 Cassy Joy Garcia is the best-selling author of Cook Once Eat All Week and the creative force behind the popular food blog Fed + Fit. Eager to share her healthy living secrets with the world, she started Fed + Fit in 2011. Since then, she became a holistic nutrition consultant and transitioned her personal blog into a tremendously supportive and nimble online wellness editorial, backed by a small but mighty team of writers, researchers, and editors. After realizing that her own struggles to get a healthy homemade dinner on the table overlapped with the same struggles experienced by her readers, she decided that there must be a better way. The Cook Once method was born, and it has revolutionized how people cook. She lives in San Antonio, TX with her husband and two children.
About Cook Once Dinner Fix:
As a busy mom of two, Cassy Joy Garcia, the best-selling author of Cook Once, Eat All Week, has limited time to get food on the table. With this book, she shares a fresh approach to preparing dinner in a hurry. These 120 easy, delicious recipes are designed to use the leftovers from one recipe to quickly cook a completely different meal the next day.
While most meal-prep cookbooks require you to plan your entire week ahead of time and spend hours in the kitchen (and a small fortune on groceries), Cook Once Dinner Fix shows you how to utilize the leftovers from one meal to create an entirely new creation for the next. The leftover Roasted Garlic Turkey Breast transforms into Spiced Turkey Potato Soup, and Dry-Rubbed Barbecue Brisket becomes crowd-pleasing Cheesesteak-Stuffed Peppers. No matter your favorite flavor profile or dietary restrictions, this book is packed with recipes the whole family will enjoy.
The Cook Once Dinner Fix solves the "what's for dinner" question without requiring enormous amounts of time, energy, skill, or money. Now dinnertime can be fun, fast, affordable, and sustainable.
COOK ONCE DINNER FIX begins with a highly detailed Introduction that includes a valuable substitutions guide, help when it comes to adjusting yields for more or less servings, Top Ten Time Saving Kitchen Tips, thoughts on fresh cooked versus make-ahead items, the essentials around properly reheating food and freezing food, and the Ten Must-Have Kitchen Equipment items. There's even a section called "Enjoying Your Time in the Kitchen Even More," featuring ideas such as creating a cooking playlist, pouring yourself a special drink, inviting friends over to help, the importance of deep cleaning your fridge and pantry, and why cleaning as you go is indeed the way to go. Dietary modifications taken into account in the book include: Vegetarian, Dairy-Free, Grain-Free, Gluten-Free, and Low-Carb options.
Event date:
Sunday, September 19, 2021 -

12:00pm

to

2:00pm
Event address:
306 Pearl Parkway
Suite 106

$30.00

ISBN: 9781982167264
Availability: On Our Shelves Now
Published: Simon & Schuster - September 14th, 2021
Never throw out your leftovers again with these delicious and healthy meals designed to transform into an entirely different dish the next night from best-selling author Cassy Joy Garcia.

As a busy mom of two, Cassy Joy Garcia, the best-selling author of Cook Once, Eat All Week, has limited time to get food on the table.
---