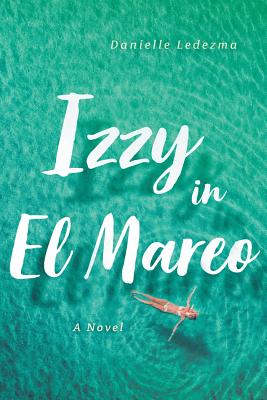 Danielle Ledezma grew up in San Antonio, Texas in her small family of four, graduating from Churchill H.S. in 2000, and from The University of Texas at Austin in 2004 with a BS in Public Relations and a concentration in Spanish. Following her college lover to Houston, she found herself on a good but ill-intended path into hospitality and hotel sales. After many failed relationships she took a job in Puerto Vallarta, Mexico to escape for a year, where she was forced to take a hard look at herself. Despite newfound self-love, she then moved to Denver where she married, and later divorced, a multilevel marketing follower that pulled her into a secluded lifestyle. Finally breaking free and moving home to San Antonio, she remarried into a loving Mexican family and was encouraged to finally write her first novel based on her true life experiences.
About Izzy in El Mareo:
Izzy's trying to cope with life, love, and loneliness, but her fast life in Houston is rapidly spinning out of control.
So when the twenty-three-year-old American takes a job at an international resort in Puerto Vallarta, Mexico, she hopes her old life is behind her at last--and with it, all the self-doubts and insecurities that have plagued her since childhood. She's wondering if she'll be able to survive in a new job in a strange country, but for now, the city's breathtaking ocean views by day and sexy club scenes by night look like paradise.
Happy and energized by the unfamiliar sights and sounds of her surroundings, Izzy sets out to prove herself in the Spanish-speaking office. Soon she's making strides at work, partying with new acquaintances, and all the while gaining confidence as she successfully navigates the local culture (and the men in it).
But soon the lines start to blur in paradise. Izzy misses her family and her boyfriend back home; she senses her new friends may be ignoring her; and when she travels for work, she feels insecure and out of place. Her self-esteem takes a hit. Confusion and disorientation set in. Returning to old habits--drinking, partying hard, and looking for love with strangers--Izzy is feeling more alone than ever. When an office gaffe threatens to ruin her much-anticipated trip home for Christmas, Izzy is forced to take stock: Was the whole move to Mexico a mistake? Can she find a way to get her career--and her life--back on track.
Event date:
Saturday, May 11, 2019 -

11:00am

to

1:00pm
Event address:
306 Pearl Parkway
Suite 106

$15.95
ISBN: 9781632992062
Availability: Usually Ships in to Twig 1-5 Days
Published: River Grove Books - March 5th, 2019
Izzy's trying to cope with life, love, and loneliness, but her fast life in Houston is rapidly spinning out of control.
---