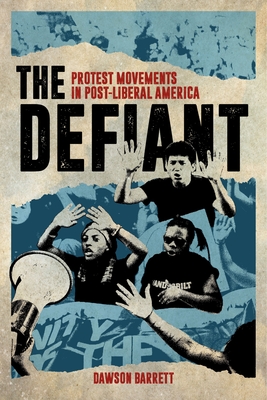 Dawson Barrett is Assistant Professor of US History at Del Mar College in Texas. He is the author of Teenage Rebels: Successful High School Activists, from the Little Rock Nine to the Class of Tomorrow.
About The Defiant: Protest Movements in Post-Liberal America:
In this exceptional new book, Dawson Barrett calls our attention to the post-1960s period, in which US economic, cultural, and political elites turned the tide against the protest movement gains of the previous forty years and reshaped the ability of activists to influence the political process.
For much of the last half-century, policymakers in both major US political parties have been guided by the "pro-business" tenets of neoliberalism. Dubbed "casino capitalism" by its critics, this economy has ravaged the environment, expanded the for-profit war and prison industries, and built a global assembly line rooted in sweatshop labor, while more than doubling the share of American wealth and income held by the country's richest 1 percent.
The Defiant explores the major policy shifts of this new Gilded Age through the lens of dissent—through the picket lines, protest marches, and sit-ins that greeted them at every turn. Barrett documents these clashes at neoliberalism's many points of impact, moving from the Arizona wilderness, to Florida tomato fields, to punk rock clubs in New York and California—and beyond. He takes readers right up to the present day with an epilogue tracing the Trump administration's strategies and policy proposals, and the myriad protests they have sparked.

Capturing a wide range of protest movements in action—from environmentalists' tree-sits to Iraq War peace marches to Occupy Wall Street, #BlackLivesMatter, and more—The Defiant is a gripping analysis of the profound struggles of our times
Event date:
Thursday, June 21, 2018 -

5:00pm

to

7:00pm
Event address:
306 Pearl Parkway
Suite 106

$24.95
ISBN: 9781479808656
Availability: Usually Ships in 1-5 Days
Published: New York University Press - May 8th, 2018
---