Debra Monroe
My Unsentimental Education
Saturday, July 9th 2016
6:30 pm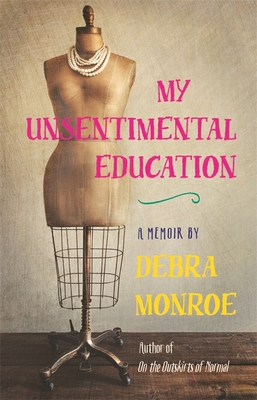 About Debra Monroe: Debra Monroe is the author of four books of fiction and two memoirs. She is a "fierce" writer who presents "ever-hopeful lost souls with engaging humor and sympathy" (Kirkus Reviews), who writes prose that's "rangy, thoughtful, ambitious, and widely, wildly knowledgeable" (The Washington Post), also "fine and funky, marbled with warmth and romantic confusion, but not a hint of sentimentality" (The Boston Globe). Her books have won many awards, including the Flannery O'Connor Award. She's published stories in over 50 magazines. Her essays have appeared in the New York Times, Salon.com, The American Scholar, and been cited for Best American Essays often. She lives in Austin, Texas.
About My Unsentimental Education: A misfit in Spooner, Wisconsin, with its farms, bars, and strip joints, Debra Monroe leaves to earn a degree, then another, and another, and builds a career if only because her plans to be a Midwestern housewife continually get scuttled. Fearless but naïve, she vaults over class barriers but never quite leaves her past behind. When it comes to men, she s still blue collar. Negotiating the world of dating, Monroe pays careful attention to what love and sex mean to a woman ambivalent about her newfound status as liberated.

Both the story of her steady rise into the professional class and a parallel history of unsuitable exes, this memoir reminds us how accidental even a good life can be. If Joan Didion advises us to keep on nodding terms with the people we used to be, Monroe takes this advice a step further and nods at the people she might have become but didn't. Funny, poignant, wise, My Unsentimental Education explores the confusion that ensues when a working-class girl ends up far from where she began.
---
Georgia Erck graduated with a BFA in Advertising from Southern Methodist University. She is a former Mentee in the Gemini Ink Mentorship Program and won Pitchapalooza at the San Antonio Book Festival in 2015. She lives and works in San Antonio, Texas, with her husband, Chris, and has two children, Eliot and Muriel. Georgia is currently at work on a memoir, Shocking Happy, which poses the question, "On your journey through life, do you get to pack your own bags, or have your parents already done it for you?"
Event date:
Saturday, July 9, 2016 - 6:30pm
Event address:
306 Pearl Parkway
Suite 106

$24.95
ISBN: 9780820348742
Availability: Usually Ships in 1-5 Days
Published: University of Georgia Press - October 1st, 2015
---