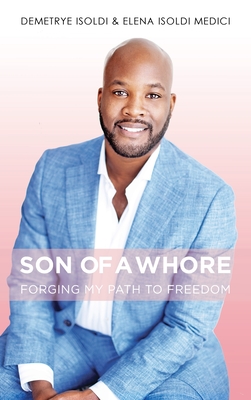 Demetrye Isoldi is a survivor of heart-wrenching childhood trauma and abuse. His mother tried to abort him with a wire hanger. His father tried to suffocate him when he was only one year old. His home life was steeped in neglect, violence, and abuse. Eventually, his mother abandoned Demetrye to be raised by strangers in a life of pain and struggle. However, Demetrye refused to be a victim. He chose to use his brokenness as fuel for the rest of his life by forging his own path to success, freedom, happiness, and love.
In contrast, Elena Isoldi Medici was raised by loving parents and grew up in a nurturing environment. Despite experiencing religious persecution in the USSR, she knew no limits because she had the love and support of her family. The first time Elena experienced brokenness was when her world collided with Demetrye's. Rather than running from the pain, she embraced it and used it as a creative force to construct a life filled with hope, forgiveness, and purpose.
Refusing victimhood, both Elena and Demetrye have used their pain to fuel their passion and strengthen their relationship. Together, they have built a successful life and health coaching practice that has touched thousands of lives around the world.
About Son of a Whore: Forging My Path to Freedom:
From the slums of Georgia and the projects of New Jersey, Demetrye Isoldi climbed his way to the top of the world.
Son of a Whore is a story of redemption and triumph. A story of how even though we might be broken, neglected, rejected, hurt, and abused, we do not have to struggle with our pain our entire life. We can find the power in us to unleash meaning, purpose, peace, and authenticity. Not despite the pain we lived through, but because of it.
In this raw and evocative memoir, Demetrye, a survivor of childhood abuse and trauma, and co-author Elena Isoldi Medici empower you to:
• Find freedom from the shadow of someone else's decisions and your own mistakes
• Take charge of your emotions
• Design your future purposefully
• Become the architect of your life
So instead of feeling powerless and remaining a victim, you can shed the chains of your pain and trauma and soar to unimaginable heights.
With a serial rapist for a father, a serial killer for a brother, and a whore for a mother, Demetrye chose to forge his path to freedom and happiness… and so can you.
Event date:
Saturday, July 3, 2021 -

11:00am

to

1:00pm
Event address:
306 Pearl Parkway
Suite 106

$19.99

ISBN: 9781734426588
Availability: On Our Shelves Now
Published: Awaken Village Press - October 28th, 2020
---