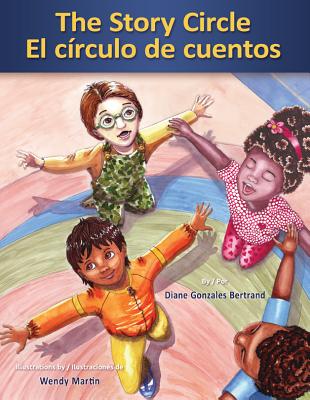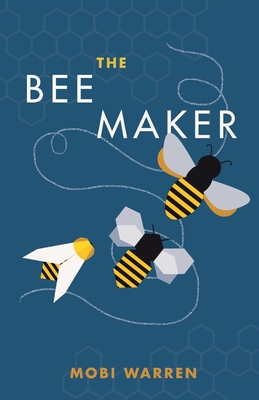 About Diane Gonzales Bertrand:
Diane Gonzales Bertrand is the author of numerous books for children and young adults. Her books for young children include The Story Circle / El círculo de cuentos (Piñata Books, 2016), A Bean and Cheese Taco Birthday / Un cumpleaños con tacos de frijoles con queso (2015), Cecilia and Miguel Are Best Friends / Cecilia y Miguel son mejores amigos (Piñata Books, 2014); Sofía and the Purple Dress / Sofía y el vestido morado (Piñata Books, 2012); Adelita and the Veggie Cousins / Adelita y las primas verduritas (Piñata Books, 2011); The Party for Papá Luis / La fiesta para Papá Luis (2010); We Are Cousins / Somos primos (2007); Ricardo's Race / La carrera de Ricardo (2007); The Ruiz Street Kids / Los muchachos de la calle Ruiz (2006); The Empanadas That Abuela Made / Las empanadas que hacía la abuela (2002); Uncle Chente's Picnic / El picnic de Tío Chente, (2001); The Last Doll / La última muñeca (2001); Family, Familia (1999); and Sip, Slurp, Soup, Soup / Caldo, caldo, caldo (1997). Bertrand's books for young adults include There's a Name for This Feeling / Hay un nombre para lo que siento (Piñata Books, 2014); The F Factor (Piñata Books, 2010); Upside Down and Backwards / De cabeza y al revés (2004); Close to the Heart (2002); Trino's Time (2001); Trino's Choice (1999); Lessons of the Game (1998); Alicia's Treasure (1996) and Sweet Fifteen (1995). A lifelong resident of San Antonio, Bertrand teaches at St. Mary's University, where she is also Writer in Residence.
About The Story Circle:
Monster storms closed the school for three days. "Carpets bubbled with mud. Green slime swallowed books." And when the children returned, the new bookshelves in the classroom were empty. "What will we do for story circle?" they ask.
With the kids sitting around her on the new rug, the teacher tells a story about a boy who loved to fly. Afterwards, she asks them what pictures they imagined. Each one sees something different: wings like yellow sunbeams, a pond that looks like a green button and cloud horses running in the blue sky. Soon, all the children are excitedly raising their hands to tell their own stories.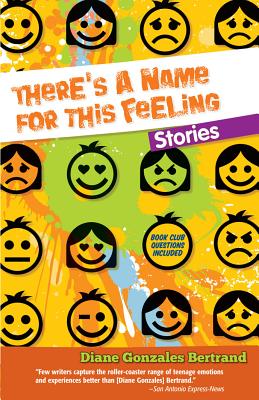 About There's a Name for This Feeling:
In the title story, Lucinda hatches a clever plan to get her boyfriend back and is crushed when she ultimately realizes that it's impossible to force a guy to love you. Like all young people, she ignores the advice of her mom and learns that lesson—and many more—the hard way.
In this bilingual collection of ten short stories for young people, kids deal with both serious and humorous consequences after they ignore their parents' suggestions and disobey rules. At a friend's house on New Year's Eve, Raymond plays with fireworks even though he promised his parents he wouldn't. Kids on a track team search for a mysterious naked woman with embarrassing results. And two girls in a wax museum are in for a surprise when they ignore the signs about touching the figures.
These short and accessible contemporary stories are alternately amusing and poignant as they explore issues relevant to today's youth. Teens deal with everything from grandparents suffering from dementia to difficult customers at a first job. And in one story, a young girl grieves the loss of her baby, a miscarriage her mom calls a "blessing." These stories highlight the emotional tailspins of living in a complicated world.
---
About Mobi Warren:
Mobi Warren is a poet, translator, and retired math educator from San Antonio, Texas. She studied Ancient Greek at the University of Texas at Austin and holds a Masters degree in Multidisciplinary Sciences from the University of the Incarnate Word. In 1977, she sailed the South China Sea with a project to rescue Vietnamese refugees, the "boat people," and she is the translator of the children's book The Dragon Prince: Stories and Legends from Vietnam by the Buddhist monk Thich Nhat Hanh, as well as his biography of the Buddha, Old Path White Clouds. She has worked as a professional storyteller and as a puppeteer in an art museum and has taught mathematics to all grades from kindergarten to high school seniors. She is a dedicated citizen scientist particularly interested in native plants and insect pollinators and how climate change is affecting them. She is an avid runner and lives in San Antonio with her dog Anatole and cat Pippin. The Bee Maker is her first novel.
About The Bee Maker:
The year is 2036. Honeybees are nearly extinct. The world's crops are disappearing and a young boy's life hangs in the balance. When Melissa Bùi's origami opens a time portal to Ancient Crete and connects her to a young athlete named Amethea, she has a chance to save both bees and boy. But she may risk blinking out of existence like the quarks her scientist father studies.
Event date:
Thursday, September 12, 2019 -

5:00pm

to

7:00pm
Event address:
306 Pearl Parkway
Suite 106

$25.13
ISBN: 9781558858268
Availability: Usually Ships in 1-5 Days
Published: Pinata Books - May 30th, 2016
---

$15.33
ISBN: 9781558857841
Availability: Usually Ships in 1-5 Days
Published: Arte Publico Press - May 1st, 2014
---

$15.39
ISBN: 9781543959628
Availability: Backordered
Published: BookBaby - April 8th, 2019
---