Diane Lawson
A Tightly Raveled Mind
Sunday, November 2
3:00 – 5:00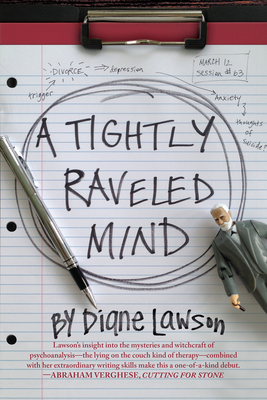 Sigmund Freud would have liked Dr. Nora Goodman, a sexy forty-something psychoanalyst with her handful of neurotic patients who can't seem to allow themselves happiness, love, or success. She's not exactly a steady customer herself, born to a ranting bipolar Talmudic scholar and a mother with a heart as cold as a slaughterhouse on the Kansas prairie in January. But now she has two kids and an overbearing psychiatrist husband. She hates him. She hates his insular social world. Nora wants a new life sans husband, but what she gets is something terribly different. It starts one Monday morning when her eight o'clock patient blows himself to smithereens. The following week, another patient dies. The police see the first as an accident, the second a straightforward suicide. Nora thinks her practice is being targeted by a killer. She hires private investigator Mike Ruiz, a tightly wound ex-cop who couldn't care less for Sigmund. "Oh, Freud," Mike says. "Isn't he dead?" Freud though is always watching while the unlikely pair struggle to an unexpected end.
Diane Lawson is a psychiatrist and psychoanalyst who has worked with patients for more than thirty years. Born in Missouri, she received her medical and psychoanalytic training in Chicago and her later-in-life MFA in Writing from the Vermont College of Fine Arts. She maintains a full time practice in San Antonio, where she shares her life with her Masoud Rasti. Her adult children, Pilar and Alejandro Martinez, live in Houston and Dallas respectively. Her previous creative piece, an essay titled "The Road to Kotor Varos," appeared in the Bellevue Literary Review. A Tightly Raveled Mind is her first novel.
Event date:
Sunday, November 2, 2014 -

3:00pm

to

5:00pm
Event address:
306 Pearl Parkway
Suite 106

Email or call for price.
ISBN: 9781935955924
Availability: Special Order
Published: Cinco Puntos Press - November 18th, 2014
---