Douglas B. Carlyle
Death by Times New Roman
Saturday, May 16
11:00-1:00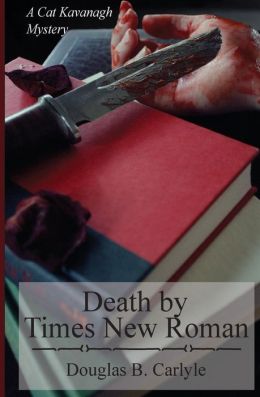 Eighteen books...eighteen towns...eighteen murders.
FBI Special Agent Cat Kavanagh is trailing a vicious killer who stabbed each of his victims. It is more that coincidental that every time author Bradley R. Woodbury publishes another best-selling novel, police find a woman dead, always in the same quiet town the author had chosen as the setting for his book.
A decorated former Army Captain, Kavanagh is tough, cunning, and beautiful. Now, she is the bait for Woodbury's final novel. Will she find the killer before she, too, suffers Death by Times New Roman?
This novel has a local flavor. The central character, Cat Kavanagh, lives in Bel Meade. She is an FBI Special Agent at the San Antonio office. The author who writes the novels that lead to the serial killings lives in Alamo Heights. She has a romantic relationship with an Alamo Heights policeman. The Riverwalk, Broadway 50-50, The San Antonio Country Club, North Star Mall, and Starbucks on Broadway are just a few of the local venues where scenes take place.
Doug Carlyle grew up in the college town of Urbana, Illinois where he graduated from the University of Illinois with, of all things for a novelist, a degree in electrical engineering. Since leaving Illinois in 1977, he has lived in Austin, San Antonio, Alamo Heights, Terrell Hills, and now resides on his Domarja Mesa Ranch in western Bandera County. After a circuitous journey that took him through 26 glorious years in the semiconductor industry, he began writing great fiction. He also married, raised a family, and relocated to the Central Texas Hill Country. Against this backdrop of mountains, valleys, live water, and wildlife, he is writing fiction intended to touch all of his readers in a very special way.
Event date:
Saturday, May 16, 2015 -

11:00am

to

1:00pm
Event address:
306 Pearl Parkway
Suite 106