Dr. Vincent Di Maio and Ron Franscell
Morgue: A Life in Death
Saturday, May 21st 2016
5:00-7:00 pm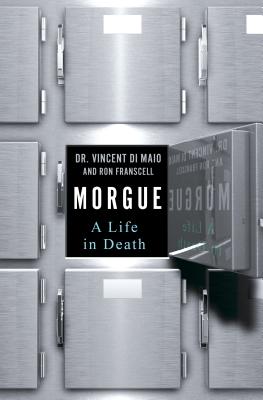 About The Authors: Vincent J. M. Di Maio, MD, is an American pathologist and an internationally renowned expert on gunshot wounds. Now a private consultant who's performed more than 9,000 autopsies, he's played pivotal roles in some of the most provocative trials and death investigations of the past 40 years. Di Maio was chief medical examiner of San Antonio, Texas, until 2006. He is editor-in-chief of The American Journal of Forensic Medicine and Pathology, and has been awarded many honors. In 2014, he was appointed to the U.S. Department of Justice's first-ever National Commission on Forensic Science to help develop uniform federal codes in death investigations.

Ron Franscell is the bestselling crime author of The Darkest Night and Delivered from Evil. He has been praised by Ann Rule, Vincent Bugliosi and other true-crime heavyweights as one of the most provocative new voices in narrative nonfiction.His work regularly appears in publications such as the Washington Post, Chicago Sun-Times, San Francisco Chronicle, Denver Post, San Jose Mercury-News, St. Louis Post-Dispatch, and Milwaukee Journal-Sentinel. He is also a novelist whose books include Angel Fire and The Deadline. He now lives in Texas.
About Morgue: A Life in Death: Forensic science is booming. TV dramas, books and movies have made morgues cool. Complex technology and intricate research can take curdled blood, bone shards, and flakes of skin and turn them into justice. And Vincent Di Maio, MD, son of a famous New York City medical examiner, is one of the lions of forensic science in his own right. In this clear, gritty, and enthralling narrative, Di Maio himself guides us into the inner sanctum, through the cases that have made him famous, from the exhumation of assassin Lee Harvey Oswald and the racially charged shooting of Florida teen Trayvon Martin, to the unmasking of a serial baby-killer and the mysterious death of troubled genius Vincent van Gogh. Along the way, one of the country's most methodical and intuitive criminal pathologists will dissect himself, maintaining a nearly continuous flow of suspenseful stories, revealing anecdotes, and enough macabre insider details to rivet the most fervent crime fans.
Event date:
Saturday, May 21, 2016 -

5:00pm

to

7:00pm
Event address:
306 Pearl Parkway
Suite 106

Email or call for price.
ISBN: 9781250067142
Availability: Hard to Find
Published: St. Martin's Press - May 17th, 2016
---