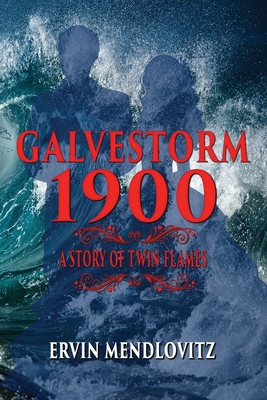 Ervin Mendlovitz, OD, lives in San Antonio where he has a private optometry practice. His own experiences as a minority in Texas helped inform the narrative in this story of immigration, love and natural disaster.
About Galvestorm 1900: A Story of Twin Flames:
Set in Galveston, Texas, Galvestorm 1900: A Story of Twin Flames is the story of Uri Petrokov, a Russian immigrant, and Genevieve Parker, a beautiful, independent- thinking young Texas woman who is far ahead of her time. As successful as Uri has been partnering with his brother Peter in the print business and thus living the American Dream, Uri remains, none the less, unfulfilled until the day Genevieve walks into the shop. The struggles the young couple endure to be together including prejudices in the community—and more agonizingly in Genevieve's own family—test the very limits of their being and love. Meanwhile, another storm is brewing, quite literally. On a Saturday in 1900, Galveston is taken by complete surprise when a hurricane unexpectedly devastates the port city, nearly sweeping it from the face of the Earth. The resulting cataclysm, an intersection of personal and communal tragedy, changes the young couple's life forever.
Galveston is a compelling, unique love story that will appeal not only to romantics, but history and weather enthusiasts alike. The love story aspect is built on the mystical concept that each of us has a Twin Flame, the other half of our soul energy that is instantly recognizable as self, and much more intense, fulfilling, and clairvoyant than any soul mate relation. Moreover, the novel is constructed on a foundation of thorough research and historical accuracy. By studying books relating to The Storm, survivor memoirs, period photos and maps, by personally studying the city, and by using his healthcare background when dealing with the medical issues raised in the novel, Dr. Mendlovitz interwove actual historical characters that survived the horrors of that night with the fictional ones in a veritable, exact setting and manner. Galveston is also informed by the author's own experience of growing up as a minority in Texas allowing him to pour genuine emotion into the characters. These Factors combine to make the novel have a ring of truth and a feel of authenticity that readers will find compelling. Above all, Galveston is a universal and timeless love story.
Event date:
Sunday, November 10, 2019 -

12:00pm

to

2:00pm
Event address:
306 Pearl Parkway
Suite 106

$15.39
ISBN: 9781950890347
Availability: Usually Ships in 1-5 Days
Published: World Castle Publishing, LLC - July 11th, 2019
---