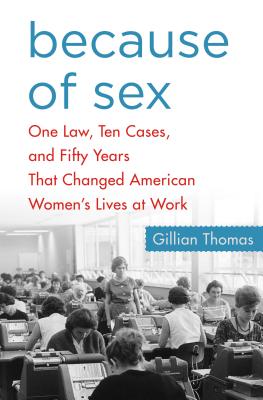 The 1964 Civil Rights Act is best known as a monumental achievement of the civil rights movement, but few realize that it also revolutionized the lives of America's working women. Title VII of the law made it illegal to discriminate "because of sex." That simple phrase didn't mean much, though, until ordinary women began using the law to get justice on the job—and some of them took their fights all the way to the Supreme Court. In BECAUSE OF SEX: One Law, Ten Cases, and Fifty Years That Changed American Women's Lives at Work. Gillian Thomas, a lawyer with the ACLU Women's Rights Project, uses first person accounts and vivid narrative to tell the story of how one law, our highest court, and a few unsung heroines changed our country's workplace forever.
Gillian Thomas is a Senior Staff Attorney with the American Civil Liberties Union Women's Rights Project. She previously litigated sex discrimination cases at the U.S. Equal Employment Opportunity Commission and Legal Momentum (formerly NOW Legal Defense and Education Fund). Her work has appeared in publications including The New York Times, The Los Angeles Times, The Atlantic, and Slate, and she has been interviewed by NPR and The Wall Street Journal, among others. She lives in Brooklyn.
About Because of Sex:
BECAUSE OF SEX takes readers through ten landmark sex discrimination cases that helped dismantle a "Mad Men" world where women could only hope to play supporting roles, where bosses' leers and propositions were as much a part of the air women breathed as cigarette smoke, and where pregnancy meant getting a pink slip. Readers will meet Ida Phillips, denied an assembly line job because she had a preschool-age child; Kim Rawlinson, who fought to become a prison guard—a "man's job"; Mechelle Vinson, who endured sexual abuse by her boss before "sexual harassment" even had a name; Ann Hopkins, denied partnership at a Big Eight accounting firm because the men in charge thought she needed "a course at charm school"; and most recently, Peggy Young, forced off her UPS delivery route while pregnant because she asked for a temporary reprieve from heavy lifting. Today, women make up close to half of all American workers, and the majority of them have children. Women are visible at the top ranks of business, science, and journalism, to name just a few. A third of the justices on the Supreme Court now are women, and a woman president is inevitable—possibly imminent. We never would have gotten here without Title VII. The law's enactment in 1964 was just the beginning.
Event date:
Wednesday, June 21, 2017 -

5:00pm

to

7:00pm
Event address:
306 Pearl Parkway
Suite 106

$37.79

ISBN: 9781137280053
Availability: Special Order
Published: St. Martin's Press - March 8th, 2016
"Meticulously researched and rewarding to read…Thomas is a gifted storyteller." —The New York Times Book Review

---