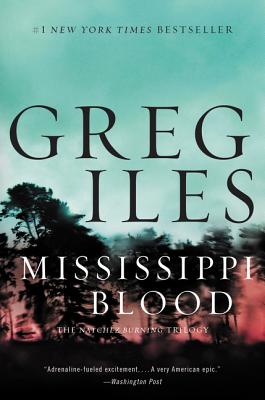 About Greg Iles:
GREG ILES was born in Germany in 1960, where his father ran the US Embassy Medical Clinic during the height of the Cold War. Iles spent his youth in Natchez, Mississippi, and graduated from the University of Mississippi in 1983. While attending Ole Miss, Greg lived in the cabin where William Faulkner and his brothers listened to countless stories told by "Mammy Callie," their beloved nanny, who had been born a slave. Iles studied the novel under Willie Morris, who brought in friends William Styron, James Dickey, John Knowles and many others to enrich his classes. After several years playing in the band "Frankly Scarlet," Iles wrote his first novel in 1993, Spandau Phoenix, which became the first of fourteen New York Times bestsellers. With his third novel, Mortal Fear, Iles began setting his novels in Mississippi, and in The Quiet Game, his fourth, he created Penn Cage and placed him in Iles's own hometown of Natchez, the oldest city on the Mississippi River.
In 2011, Greg sustained life-threatening injuries in an automobile accident on Highway 61 near Natchez. He remained in a medically-induced coma for eight days and ultimately lost part of his right leg. Doctors declared his survival miraculous and predicted a long recovery, yet early in his rehabilitation, Greg found comfort and motivation by re-entering the world of the character, the town, and the secrets that his fans loved most. The road into these novels proved to be the road back to life.
Greg has also played a key role in a number of progressive issues in his home state of Mississippi, including efforts to have the Confederate emblem removed from the state flag of Mississippi, and to expand a "traditional" Natchez antebellum pageant to include depictions of the realities of slavery and racial strife. In August 2016 he received a lifetime achievement from the Writers Guild of Mississippi.
Iles is a member of the lit-rock group "The Rock Bottom Remainders" that includes authors Dave Barry, Ridley Pearson, Stephen King, Scott Turow, Amy Tan, Mitch Albom, Roy Blount, Jr., Matt Groening, Kathi Kamen Goldmark, James McBride and Roger McGuinn.
Iles lives with his wife in Natchez, Mississippi, and has two teenaged children. His novels have been made into films, translated into more than twenty languages, and published in more than thirty-five countries worldwide.
About Mississippi Blood:
The exhilarating, highly anticipated final volume in the epic trilogy featuring Penn Cage from #1 New York Times bestselling author Greg Iles.
The endgame is at hand for Penn Cage, his family, and the enemies working to destroy them in this exhilarating final volume in the epic Natchez Burning trilogy set in modern Natchez, Mississippi—Greg Iles's bold and ambitious story of blood and honor, violence and revenge that explores how the sins of the past continue to haunt the present.
Shattered by grief and dreaming of vengeance, Penn Cage sees his family and his world collapsing around him. The woman he loves is gone, his principles have been irrevocably compromised, and his father, Dr. Tom Cage, once a paragon of the community that Penn leads as mayor, is about to be tried for murder. Most terrifying of all, Dr. Cage seems bent on self-destruction. Despite Penn's experience as a prosecutor in major murder trials, his father has frozen him out of the trial preparations—preferring to risk dying in prison to revealing the truth of the crime to his son.
During forty years practicing medicine, Tom Cage made himself the most respected and beloved physician in Natchez, Mississippi. But this revered Southern figure may never have been as virtuous as he seemed. Could Penn have a half-brother, the product of an 1960s affair between Tom and his devoted African American nurse, Viola Turner? This furious man has driven the murder prosecution of Dr. Cage, which has exhumed dangerous ghosts from Mississippi's violent past. The surviving members of the Double Eagles, a savage splinter cell of the KKK, are on the loose again—and with the help of some of the most influential men in the state, have become more dangerous than ever.
In some way that Penn cannot fathom, Viola Turner was a nexus point between his father and the vicious Double Eagles. More troubling still, the long-buried secrets shared by his father and the former Klansmen may hold the key to the most devastating assassinations of the 1960s. Dr. Cage's trial sets a terrible clock in motion, and unless Penn can pierce the veil of the past and exonerate his father, his family will be destroyed. Unable to trust anyone around him to tell the truth--not even his own mother--Penn joins forces with Serenity Butler, a famous young black woman who has come to Natchez to write a book about his father's case. Together, Penn and Serenity—a former soldier—begin a battle to crack the Double Eagles and discover the secret history of the Cage family and the South itself, a desperate move that risks the only thing they have left to gamble: their lives.
Mississippi Blood is the enthralling conclusion to a breathtaking trilogy seven years in the Making--one that has kept readers on the edge of their seats. With piercing insight, narrative prowess, and a masterful ability to blend imagination and history, New York Times bestselling author Greg Iles illuminates the brutal history of the American South in a highly atmospheric and suspenseful novel that delivers the shocking resolution his fans have eagerly awaited.
Event date:
Thursday, April 20, 2017 -

5:00pm

to

7:00pm
Event address:
306 Pearl Parkway
Suite 106

Email or call for price.
ISBN: 9780062311153
Availability: Hard to Find
Published: William Morrow - March 21st, 2017
---