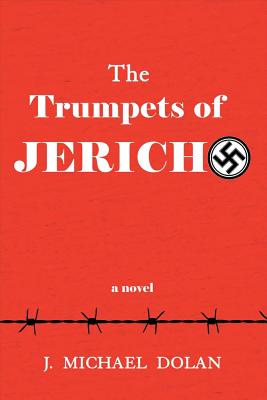 At the age of twelve, Mr. Dolan read the iconic I Cannot Forgive by Rudolf Vrba, and has been an avid student of the Holocaust since. For reasons that elude him today, though, he never thought of writing about it.
A wanderer in his youth, he has lived in a lot of places, many of them exotic, where he combined the education only travel can give with that of the written word to produce a variety of short stories and articles.
Upon revisiting a piece of history he'd all but forgotten, however, and finding to his surprise it still lacked the book it deserved, he decided to write that book. The result is his remarkable The Trumpets of Jericho: A Novel. In its pages you'll find dozens of heroes, and villains, you never knew existed but won't soon forget.
At present Dolan lives between San Antonio and Austin, enabling him, he says, "to make the most of both great cities." Taking a break from the horrors of the Holocaust but not the fertile ground of Jewish history, he is currently researching a novel set in the Roman-occupied Palestine of the 1st century A.D.
About The Trumpets of Jericho: A Novel:
The Trumpets of Jericho: A Novel is the first book devoted in its entirety to one of the great stories of the Holocaust—the defiant 1944 Jewish uprising at the Auschwitz-Birkenau extermination complex—and the just as inspiring account of the four young female rebels later arrested by the camp Gestapo for their role in the revolt. Though savagely tortured for weeks, they refused to give up the name of a single surviving conspirator.
In conjunction with bringing this epic tale to light, Dolan explores, among other themes, religion and the existence of God, the psychology of genocide, friendship and romantic love, sexual and other pathologies, the nature of good and evil, right and wrong.
Above all, he shows how the most monstrous crime ever committed was in the end no match for the indomitability, the grandeur of the human spirit.
Event date:
Monday, September 18, 2017 -

5:00pm

to

7:00pm
Event address:
306 Pearl Parkway
Suite 106

Email or call for price.
ISBN: 9780998700809
Availability: Special Order
Published: Monochrome Books - September 7th, 2017
---