J. Ryan Stradal
Kitchens of the Great Midwest
Saturday, June 11th 2016
2:00 pm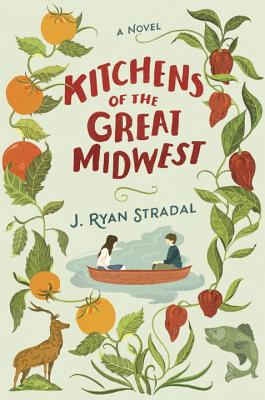 About J. Ryan Stradal:Born and raised in Minnesota, J. Ryan Stradal now lives in Los Angeles, where he is an editor-at-large at Unnamed Press, fiction editor at The Nervous Breakdown, advisory board member at 826LA, and co-producer & host of the literary/culinary series Hot Dish.

His first book is the New York Times-bestselling novel KITCHENS OF THE GREAT MIDWEST (Viking / Pamela Dorman Books, 2015). Voted the 2016 Adult Debut Book of the Year in the American Booksellers Association's Indies Choice Book Awards, KITCHENS has been acquired for publication in twelve other countries and optioned by Warner Bros. for film & TV.

His shorter work appears in Hobart, The Wall Street Journal, The Guardian, The Rumpus, The Los Angeles Review of Books, BuzzFeed, and Midnight Breakfast, among other places. He likes books, wine, sports, root beer, and peas.
About Kitchens of the Great Midwest: When Lars Thorvald's wife, Cynthia, falls in love with wine--and a dashing sommelier--he's left to raise their baby, Eva, on his own. He's determined to pass on his love of food to his daughter--starting with puréed pork shoulder. As Eva grows, she finds her solace and salvation in the flavors of her native Minnesota. From Scandinavian lutefisk to hydroponic chocolate habaneros, each ingredient represents one part of Eva's journey as she becomes the star chef behind a legendary and secretive pop-up supper club, culminating in an opulent and emotional feast that's a testament to her spirit and resilience.

Each chapter in J. Ryan Stradal's startlingly original debut tells the story of a single dish and character, at once capturing the zeitgeist of the Midwest, the rise of foodie culture, and delving into the ways food creates community and a sense of identity. By turns quirky, hilarious, and vividly sensory, Kitchens of the Great Midwest is an unexpected mother-daughter story about the bittersweet nature of life--its missed opportunities and its joyful surprises. It marks the entry of a brilliant new talent.
Event date:
Saturday, June 11, 2016 - 2:00pm
Event address:
306 Pearl Parkway
Suite 106

Email or call for price.
ISBN: 9780525429142
Availability: Hard to Find
Published: Pamela Dorman Books - July 28th, 2015
---