J. T. Davis
Too Much Knowledge Can Kill You
Wednesday, February 17th 2016
6:00-8:00 pm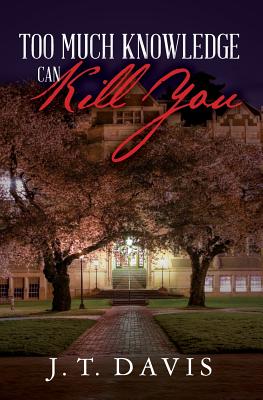 About J.T. Davis: After a career as a physical therapist and professor of physical therapy, J. T. Davis retired. In retirement, he discovered local politics and a passion for writing. Serving on local committees and as a Councilman for the City of Castle Hills, Texas, he gained a solid knowledge of small town government and local politics. Politics Can Be Deadly, the first in this murder mystery series, introduced the readers to the antics of amateur detectives Gus Reynolds and Cassie Thibodeaux as they solved the murder of Lydia Ferrell in the small Texas town of Serenity Hills. Too Much Knowledge Can Kill You is the second in the murder mystery series. J. T. has begun writing the third in the series, Holiday Parties Can Be Murder. He also writes a Friday weekly blog highlighting the news and gossip of the fictional Texas town in which the murder mysteries occur. Read about the characters living in Serenity Hills and their humorous exploits on the Facebook site, Serenity Hills, Texas. Send a friend request and catch up on your favorite residents and the town's frequently hilarious events.
J. T. began his writing career after joined the Madison Square Writer's group and was encouraged to put his stories together into a book. His first published novel was New York Stories and Other Potentially Libelous Tales of the 1970s which chronicles the adventures of Texan Mike Myles as he discovers the gay world of New York from the West Village to Fire Island. San Antonio Stories: Not Just Fiestas and Rodeos, the second book in the Mike Myles series, continues with Mike's return from New York to his hometown of San Antonio, Texas and the underground city he had not known before. The third in the series, More San Antonio Stories: Husband Country has been completed and is in production for a March 2016 publication. He has begun writing the prequel to the Mike Myles series, New Orleans Stories: Queen of the Mississippi and More.
J. T. lives with his husband Matthew Stroud, a professor at Trinity University. They have been partners for 38 years and were married on June 19, 2008 in West Hollywood, California.
About Too Much Knowledge Can Kill You: The body of a young man with no wallet and no identification is found in the woods of Serenity Hills, Texas. When Councilman Gus Reynolds discovers the victim's identity, he and city bookkeeper Cassie Thibodeaux again join forces to solve the crime. After successfully solving the murder mystery in Politics Can Be Deadly, this time Gus and Cassie drag their husbands, David Hartley and J. D. Thibodeaux, and city manager, Dede Kelley, into their unconventional methods of solving the murder as the amateur detectives encounter dead ends, wrong turns, amusing situations, and even danger.
Event date:
Wednesday, February 17, 2016 -

6:00pm

to

8:00pm
Event address:
306 Pearl Parkway
Suite 106