Jamie Brickhouse
Dangerous When Wet
Thursday, May 14th
5:30-7:30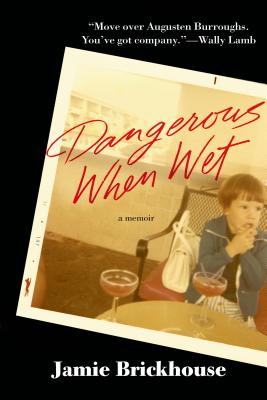 "Whoever said you can't get sober for someone else never met my mother, Mama Jean. When I came to in a Manhattan emergency room after an overdose to the news that she was on her way from Texas, I panicked. She was the last person I wanted to see on that dark September morning, but the person I needed the most."
So begins this astonishing memoir—by turns both darkly comic and deeply poignant—about this native Texan's long struggle with alcohol, his complicated relationship with Mama Jean, and his sexuality. From the age of five all Brickhouse wanted was to be at a party with a drink in one hand and a cigarette in the other and all Mama Jean wanted was to keep him at that age, her Jamie doll forever. A Texan Elizabeth Taylor with the split personality of Auntie Mame and Mama Rose, always camera-ready and flamboyantly outspoken, Mama Jean haunted him his whole life, no matter how far away he went or how deep in booze he swam. Brickhouse's journey takes him from Texas to a high-profile career in book publishing amid New York's glamorous drinking life to his near-fatal descent into alcoholism. After Mama Jean ushers him into rehab and he ultimately begins to dig out of the hole he'd found himself in, he almost misses his chance to prove that he loves her as much as she loves him. Bitingly funny, raw, and insightful, Dangerous When Wet is the unforgettable story of a unique relationship between a son and his mother.
About Jamie Brickhouse
JAMIE BRICKHOUSE has written for The New York Times, the International Herald Tribune, Lambda Literary Review, and The Fix, and guest blogs for the Huffington Post. He spent over two decades in the publishing industry, most recently at two major houses as head of their publicity and lecture divisions. He has performed stand-up comedy and recorded voice-overs for the legendary TV show, Beavis and Butthead. A native of Beaumont, Texas, Brickhouse lives in Manhattan with his partner, Michael.
Early Praise
"As a blackout drinker and a 'serial fornicator,' Jamie Brickhouse was guided by two interrogative mantras: 'Sure. Why not?' and, courtesy of singer Peggy Lee, 'Is that all there is?' But Dangerous When Wet is far more than a witty chronicle of gin-soaked debauchery. It is, more importantly, a poignant, hilarious, and sharply observed story of a gay man's exchange of self-destruction and self-loathing for a quest for wisdom and a mature understanding of love. Move over, Augusten Burroughs. You've got company."
—Wally Lamb, author She's Come Undone, I Know This Much is True, We are Water
"Jamie Brickhouse has written a blisteringly funny, wrenching account of wrestling way too close to – and later loose from – booze, sex and drugs and his adorable, infuriating mother. Believe me: the gator wranglers from his Texas backwater hometown have it way easier. It's packed with multiple fine threads in a rich tapestry. Bravo – the first of many from Brickhouse."
—Mary Karr, author of The Liars' Club, Cherry and Lit
"Everyone's got a mother, but Jamie Brickhouse was lucky enough to have a Mama Jean, a boisterous, loving and bouffant Texas tornado. In Dangerous When Wet, Jamie's delicious and touching memoir, we find out precisely how Jamie became the sort of guy to purchase, at auction, "a six-and-a-half-foot long, chestnut brown, ranch mink scarf," which had once belonged to Joan Crawford. Under Mama Jean's tutelage, Jamie also came to appreciate the joys, and dangers, of a champagne cocktail. In exploring family uproar, the Holly Golightly allure of Manhattan, and the free fall of alcoholism, Jamie creates a literary cocktail all his own: witty, blisteringly honest and wickedly intoxicating."
—Paul Rudnick, playwright, author & New Yorker columnist
Event date:
Thursday, May 14, 2015 -

5:30pm

to

7:30pm
Event address:
306 Pearl Parkway
Suite 106

Email or call for price.
ISBN: 9781250041159
Availability: Out of Print
Published: St. Martin's Press - April 28th, 2015
---