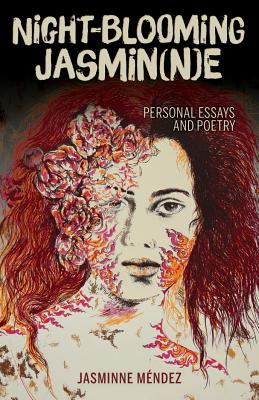 Born from immigrant parents of the Dominican Republic, Jasminne Mendez was blessed to learn both English and Spanish at a very early age. She has used these skills to her advantage throughout her life by performing, reading and writing poetry, short stories and plays in both languages.
She attended the University of Houston from 2002 -2007 where she received her Bachelors of Arts degree in English Literature and her M.Ed. in Curriculum and Instruction. While at the University of Houston she played leading roles in various plays including A Raisin in the Sun, For Colored Girls Who Have Considered Suicide When the Rainbow is Enuf, and Yerma. She also spent many of those early years writing and performing poetry in local venues around the Houston area.
In 2007 her work was transferred from the stage to the printed page when her creative non-fiction piece, The China Cabinet was published in the anthology, Windows into My World: Latino Youth Write Their Lives by Arte Publico Press. Since then, she has been published by or has forthcoming publications with, Crab Creek Review, The Acentos Review, Label Me Latino/a, Gulf Coast Magazine, The Texas Review, La Galeria Magazine, The Best of CutThroat: A Journal of the Arts, Telling Our Stories Press, University of Chester, Whispering Angel Books, Floricanto Press and others.
As a performance poet, she has performed for the Mexican American Studies department at both the University of Houston central campus and the University of Houston Clearlake Campus. She has performed at other prestigious venues around Houston including Talento Bilingue de Houston, MECA, Houston Community College(HCC), the Holocaust Museum, the Alley Theatre and the Museum of Fine Arts (MFAH).
In 2009 she had the privilege of opening for award-winning author Sandra Cisneros at Rice University for over 500 audience members. In the past, she has also had the privilege of sharing the stage with notable artists and writers, Amalia Ortiz, Taylor Mali, and Dagoberto Gilb. Recently she was awarded Best Houston Performer of the Year by RAW: Houston and her first multi-genre memoir Island of Dreams received first place for Best Young Adult Latino Focused Book by the International Latino Book Awards. In spring 2016, her essay El Corte was awarded Honorable Mention for the Barry Lopez Creative Non-Fiction Prize through CutThroat: A Journal of The Arts, and in the fall of 2016 her collection of essays Interruptions & Detours was a semi-finalist for the Rose Metal Press Essay Chapbook Prize.
She is a Canto Mundo Fellow, a VONA Alumni, a Macondo Fellow and a current MFA creative writing candidate at the Rainier Writing Workshop at Pacific Lutheran University. Her second book, Night-Blooming Jasmin(n)e: Personal Essays & Poems will be published by Arte Public Press in April 2018.
About Night-blooming Jasmin(n)e: Personal Essays and Poetry:
For Jasminne Mendez, pericardial effusion and pericarditis are not just an abnormal accumulation of fluid and increased inflammation around the heart. It's what happens "when you stifle the tears and pain of a miscarriage, infertility and chronic illness for so long that your heart does the crying for you until it begins to drown because its tears have nowhere to go." Diagnosed with scleroderma at 22 and lupus just six years later, her life becomes a roller coaster of doctor visits, medical tests and procedures. Staring at EKG results that look like hieroglyphics, she realizes that she doesn't want to understand them: "The language of a life lived with chronic illness is not something I want to adapt to. I cannot let this hostile vocabulary hijack my story." The daughter of Dominican immigrants, Mendez fought for independence against her overly-protective parents, obtaining a full scholarship to college, a dream job after school and a master's degree shortly thereafter. But the full-time job with medical insurance doesn't satisfy her urge to write and perform, so she leaves it in search of creative fulfillment. In this stirring collection of personal essays and poetry, Mendez shares her story, writing about encounters with the medical establishment, experiences as an Afro Latina and longing for the life she expected but that eludes her.
Event date:
Tuesday, September 11, 2018 -

5:00pm

to

7:00pm
Event address:
306 Pearl Parkway
Suite 106

$23.73
ISBN: 9781558858619
Availability: Usually Ships in 1-5 Days
Published: Arte Publico Press - April 30th, 2018
---