Due to Jim's unexpected passing, this event will be a memorial event to celebrate Jim's life with friends, family, and fans.
Jim Harter
Early Automobiles A History in Advertising Line Art
Tuesday, November 3rd 2015
5:00-7:00 pm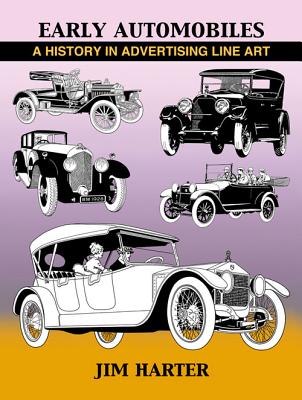 About Jim Harter: Born in Lubbock, Texas, Jim Harter was largely self-taught as an artist. From 1969 to 1972 he played a small part in creating posters for Austin's legendary rock venues, the Vulcan Gas Company and Armadillo World Headquarters. Influenced by San Francisco collage artist Wilfried Satty, Harter turned to making surrealist collages from 19th century engravings. In 1976 he moved to New York, becoming a freelance illustrator, and editor of clip-art books for Dover. Harter's formal interest in transportation history and the artwork that illustrated that history began with the publication of Transportation: A Pictorial Archive from Nineteenth Century Sources (Dover, 1984).
In 1984, Harter began painting using an old-master technique, under the guidance of Carlos Madrid. During the early 1980s Harter became friends with Dr. Jean Letschert, a Belgian visionary painter and former student of Rene Magritte. He also met members of Holland's Metarealist group, and fantastic realist painters in New York. In 1986, Harter moved to San Antonio, Texas.
About Early Automobiles A History in Advertising Line Art: Image archivist and transportation historian Jim Harter follows his work, Early Farm Tractors, with an even larger collection of images from advertising line art illustrating early automobiles from 1890 to 1930. Including nearly 250 entrancing illustrations, many are gems of the art of commercial line art and wood engraving. Harter provides a very substantial, detailed history of the development of the "horseless carriage" into the brands famous from the early 20th century — racers like Stutz, Duesenberg, and Stanley, as well as those that became household names like Oldsmobile, Pope, Ford, Cadillac, Packard, Pierce-Arrow, Winton, Rolls-Royce, Stutz, Franklin, Jordan, Chrysler and others. Of special interest are the dozens of successful electric automobiles that flourished for 25 years. The history includes many colorful anecdotes about early long-distance races as well as interesting details of engineering breakthroughs.
Event date:
Tuesday, November 3, 2015 -

5:00pm

to

7:00pm
Event address:
306 Pearl Parkway
Suite 106

Email or call for price.
ISBN: 9781609404895
Availability: Special Order
Published: Wings Press - October 1st, 2015
---