Judge Janice Law
American Evita: Lurleen Wallace
Thursday, June 23rd 2016
5:00-7:00 pm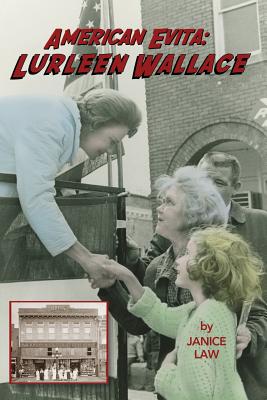 About Judge Janice Law: Janice Law (b. 1941) is an acclaimed author of mystery fiction. The Watergate scandal inspired her to write her first novel, "The Big Payoff", which introduced Anna Peters, a street-smart young woman who blackmails her boss, a corrupt oil executive. The novel was a success, winning an Edgar nomination, and Law went on to write eight more in the series, including "Death Under Par" and "Cross-Check".Law has written historical mysteries, standalone suspense, and, most recently, the Francis Bacon Mysteries, which include "The Prisoner of the Riviera", winner of the 2013 Lambda Literary Gay Mystery Award. She lives and writes in Connecticut.
About American Evita: Lurleen Wallace: Janice Law's sixth book, braids the biographies of Governor Lurleen Wallace of Alabama and Evita Peron, First Lady of Argentina– women in their time, who were not women of their time.
Born in the same era, both first ladies–of rural, humble birth, who did not graduate from high school–emerged as charismatic leaders; the trajectories of their high-profile achievements and dramatic life journeys paralleling in astonishing chrysalis patterns, eclipsing the political Suns of the steely-eyed, more educated, men of expediency they married.
Their husbands kept from each, the identical life-threatening medical secret. Their humanitarian legacies endure beyond each woman's early, poignant death from the same cause. Their husbands' self-focused legacies proved gossamer.
Event date:
Thursday, June 23, 2016 -

5:00pm

to

7:00pm
Event address:
306 Pearl Parkway
Suite 106

$19.95
ISBN: 9781940130835
Availability: Usually Ships in 1-5 Days
Published: Eakin Press - February 25th, 2015
---