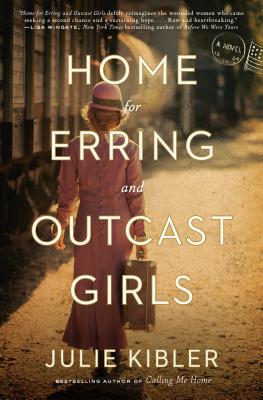 Julie Kibler is the bestselling author of Home for Erring and Outcast Girls and Calling Me Home, which was an IndieNext List pick, Target Club Pick, and Ladies' Home Journal Book Club Pick, published in fifteen languages. She has a bachelor's degree in English and journalism and a master's degree in library science and lives with her family, including four rescued dogs and cats, in Texas.
Julie wrote Home for Erring and Outcast Girls after learning about the historical Berachah Industrial Home in Arlington, Texas. She soon visited the cemetery, the only remaining reminder of the home, and became intrigued by several of the headstones, which led to several years of intense research, writing, and revising, until the novel was ready for readers.
She wrote Calling Me Home after discovering a bit of family lore: As a teen, her paternal grandmother fell in love with a young black man, but their families tore them apart. While digging into the past, she also learned that her father's hometown had signs at the city limits warning blacks to be gone by sundown.
Julie grew up in various towns in Kentucky, New Mexico, and Colorado, then moved to Texas to attend college and stayed because even the strangers were friendly. Aside from writing, she enjoys reading, traveling, indie films, BBC and quirky American television series, music, amateur photography, and splitting chocolaty desserts with her husband, an engineer who doesn't understand writers, but understands chocolate.
Julie is currently promoting Home for Erring and Outcast Girls and developing her next novel. She hopes the new novel won't take another five years to write, but makes no promises, because she believes in sleeping enough, going to tai chi classes as often as possible, eating good food, and writing that takes her into the worlds of characters who allow her to live and breathe with them until they are completely finished telling their stories.

About Home for Erring and Outcast Girls:
In turn-of-the-20th century Texas, the Berachah Home for the Redemption and Protection of Erring Girls is an unprecedented beacon of hope for young women consigned to the dangerous poverty of the streets by birth, circumstance, or personal tragedy. Built in 1903 on the dusty outskirts of Arlington, a remote dot between Dallas and Fort Worth's red-light districts, the progressive home bucks public opinion by offering faith, training, and rehabilitation to prostitutes, addicts, unwed mothers, and "ruined" girls without forcibly separating mothers from children. When Lizzie Bates and Mattie McBride meet there--one sick and abused, but desperately clinging to her young daughter, the other jilted by the beau who fathered her ailing son--they form a friendship that will see them through unbearable loss, heartbreak, difficult choices, and ultimately, diverging paths.
A century later, Cate Sutton, a reclusive university librarian, uncovers the hidden histories of the two troubled women as she stumbles upon the cemetery on the home's former grounds and begins to comb through its archives in her library. Pulled by an indescribable connection, what Cate discovers about their stories leads her to confront her own heartbreaking past, and to reclaim the life she thought she'd let go forever. With great pathos and powerful emotional resonance, Home for Erring and Outcast Girls explores the dark roads that lead us to ruin, and the paths we take to return to ourselves.
Event date:
Wednesday, August 7, 2019 -

5:00pm

to

7:00pm
Event address:
306 Pearl Parkway
Suite 106

Email or call for price.
ISBN: 9780451499332
Availability: Hard to Find
Published: Crown - July 23rd, 2019
---