Kamy Wicoff
Wishful Thinking
Tuesday, May 12
6:00-8:00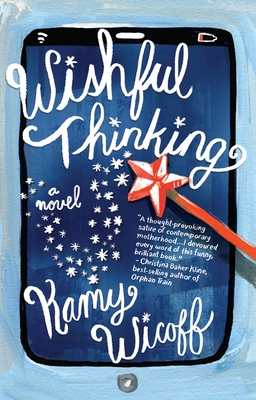 A modern-day fairy tale in which one woman learns to overcome the challenges and appreciate the joys of living life in real time, Kamy Wicoff's debut novel Wishful Thinking is a thoughtful reflection on contemporary parenthood delivered in a funny, fast-paced package for women on the run. Set in the world of pickup, play dates, FaceTime and overtime, and wittily parodying the fantasy that smartphones are the answer to all life's challenges, Wishful Thinking is the perfect novel for working parents today.
Wishful Thinking follows Jennifer Sharpe, a divorced mother of two with a problem just about any working parent can relate to: her boss expects her to work as though she doesn't have children, and her children want her to care for them as though she doesn't have a boss. But when, through a fateful coincidence, a brilliant physicist comes into possession of Jennifer's phone and decides to play fairy godmother, installing a miraculous time-travel app called Wishful Thinking, Jennifer suddenly finds herself in possession of what seems like the answer to the impossible dream of having it all: an app that lets her be in more than one place at the same time.

With the app, Jennifer goes quickly from zero to hero in every part of her life: she is super worker, the last to leave her office every night; she is super mom, the first to arrive at pickup every afternoon; and she even becomes super girlfriend, dating a musician who thinks she has unlimited child care and a flexible job. But Jennifer soon finds herself facing questions that adding more hours to her day can't answer. Why does she feel busier and more harried than ever? Is she aging faster than everyone around her? How can she be a good worker, mother, and partner when she can't be honest with anybody in her life? And most important, when choosing to be with your children, at work, or with your partner doesn't involve sacrifice, do those choices lose their meaning?
Advance Praise for Wishful Thinking
"Wishful Thinking is funny, tender, perceptive- I tore through it with delight."
—Gretchen Rubin, author of The Happiness Project
"A thought-provoking, gimlet-eyed satire of contemporary motherhood in the guise of a romantic comedy, Wishful Thinking is a Trojan horse of a novel, delivering incisive social commentary while it entertains and delights you. I devoured every word of this funny, brilliant book." —Christina Baker Kline, author of Orphan Train
"Wishful Thinking is a whimsical, time-bending tale about an overextended, working single mother's Year of Magical Living. The solution handed to Jennifer is both fanciful and practical. Who wouldn't want extra hours added to each day? If only!" —Hope Edelman, The Possibility of Everything
ABOUT THE AUTHOR: Kamy Wicoff is the co founder of SheWrites.com, the world's largest online community for women who write, and co founder, with publisher Brooke Warner, of She Writes Press. SheWrites.com and SheWrites Press were acquired in 2014 and are now part of the SparkPoint Studio family. Wicoff's first book, the best-selling I Do but I Don't: Why the Way We Marry Matters, was published by Da Capo Press in 2006. Her work has appeared in Salon.com, and has been anthologized in Why I'm Still Married: Women Write Their Hearts Out on Love, Loss, Sex, and Who Does The Dishes (Hudson Street Press, 2006), and About Face: Women Write About What They See When They Look in the Mirror (Seal Press, 2008). She serves on the board of Girls Write Now, a mentoring organization in New York City, and also formerly served on the Advisory Council for Stanford University's Clayman Institute for Gender Research. Wicoff lives in Brooklyn with her sons, Max and Jed. Connect with her at kamywicoff.com, at facebook.com/kwicoff or on Twitter @kwicoff.
Event date:
Tuesday, May 12, 2015 -

6:00pm

to

8:00pm
Event address:
306 Pearl Parkway
Suite 106

$16.95
ISBN: 9781631529764
Availability: Usually Ships in 1-5 Days
Published: She Writes Press - April 21st, 2015
---