Kathryn Lane
Waking Up In Medellin
Sunday, June 19th 2016
11:00-1:00 pm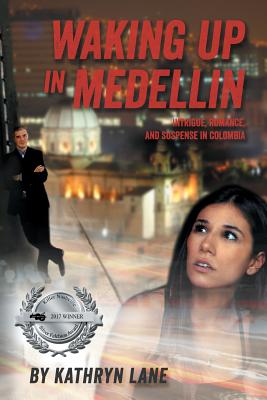 About Kathryn Lane:
Originally from Mexico, I wanted to be a painter in oils but quickly changed to accounting and international finance after I discovered the path to painting lead to a starving artist existence.
To cement my ability to earn a living, I became a CPA and a CMA and worked for a multinational corporation where I traveled extensively for a several years. After jetting to over 90 countries, I realized my travels gave me the opportunity to fulfill another passion – to write fiction. I find inspiration not only from my travels but also in the Latin American cultures and customs so familiar to me. If you read my short stories, you may find the occasional fusion between fantasy and reality, often layered with symbolism punctuated with occasional hints of surrealism.
I serve on the Board of the Montgomery County Literary Arts Council and I reside in Texas with my husband Bob Hurt.
About Waking Up In Medellin:
Nikki Garcia, an American woman, arrives in Medellin, Colombia to investigate allegations of fraud against the General Manager of Amazonia Steel, a local affiliate of the multi-national corporation where she works. In her ensuing investigation she connects two accidental deaths at the Company to a much darker plot involving the man she's investigating.
Feeling in over her head, she hires a former CIA operative to assist her. Nikki also meets a Colombian medical doctor she soon finds herself falling in love with until she is kidnapped and wonders if he is also part of the sinister plot threatening her life.
Event date:
Sunday, June 19, 2016 -

11:00am

to

1:00pm
Event address:
306 Pearl Parkway
Suite 106

$14.97
ISBN: 9781683130147
Availability: Usually Ships in 1-5 Days
Published: Pen-L Publishing - March 25th, 2016
---