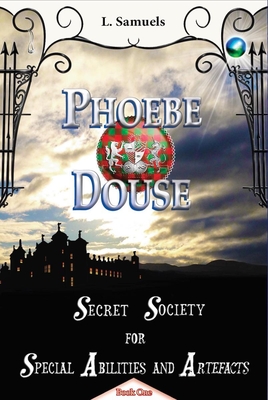 Dr. Melissa Moncrieffe, who writes under the pen name "L. Samuels", grew up in Texas and appreciated the valuable lessons she learned throughout her childhood. She spent summers traveling or studying abroad, enjoying the wonderful cultures and places of different people and lands. Samuels holds dual citizenship from the US and Jamaica and has lived and worked in the US, UK, and Europe. She graduated with a PhD in Education from the University of Edinburgh in 2016. Currently, she spends her time between Dallas and Geneva, operating a global education company, writing, and illustrating. She loves spending time with her family, dancing, and hiking.
About Phoebe Douse: Secret Society for Special Abilities and Artefacts:
In this first book of a trilogy, journey with clever Phoebe Douse whose reluctance to believe peculiar events and stories in Texas is radically changed while attending a remote boarding school thousands of miles away in Scotland. There, Phoebe discovers the clandestine world of S3A2, led by powerful Ozmantahs, opens up to new and extraordinary friends, and experiences the extent of her own abilities through her connection to the timeless and coveted Fadrix. Ultimately, Phoebe will have to decide between her own ambitions and the lives of others.
Event date:
Tuesday, December 17, 2019 -

5:00pm

to

7:00pm
Event address:
306 Pearl Parkway
Suite 106

$12.99

ISBN: 9781732284661
Availability: Usually Ships in to Twig 1-5 Days
Published: Valued Educational Services LLC - November 1st, 2019
Grandmother Naan's superstitious stories seem too peculiar and childish to Phoebe Douse. But when surprising and unfortunate circumstances in Texas lead her to accept a timely invitation to attend a remote boarding school, thousands of miles away in Scotland, Phoebe finds that everything is not what she made herself believe.
---