Mandy Barton
Step One: Jump!
Saturday, September 24th 2016
11:00-1:00 pm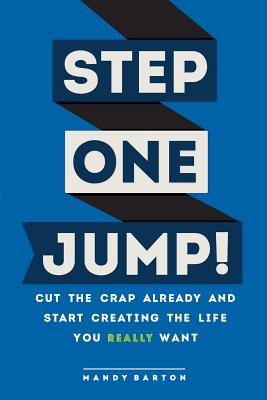 About Mandy Barton: Increasing the good of life around her, that's Mandy Barton's purpose in life. She's been living by this one premise since she started her first of five companies, Barton Logistics, in 1997. The entrepreneur, author, coach, mother, and true believer-in-people, Mandy has built an empire designed to help you better yourself and better the world around you.
Through community involvement and Take Yourself OnTMCoaching, she's guided others to succeed. Her book, Step One: Jump! is her way of sharing her knowledge and experiences with the world. It's hard-hitting and encourages you to get out of your own way. Its the awakening that gets you dreaming and achieving again, or perhaps for the first time. In Step One: Jump! Mandy Barton gives you the blueprint you need to ultimately get you unstuck and out of a mediocre life. You'll get back on track towards the life you really want.
Mandy will show you how to awaken the dreamer and the achiever within. So stop procrastinating and jump! It s time to take yourself on and create the life you really want.
About Step One Jump: You've just discovered the guide to creating the life you really want.
At some point in our lives, most of us have experienced a period of high momentum and motivation, but what about all of the times when we are not in that zone? Where ever you're stuck, meaning any place except being on fire and excited about living life, there's a chapter for you in this book.
Whether you're a success story looking for your next big thing, a person who is tired of living a mediocre life, or someone who doesn't even have a dream, here is where your wheels stop spinning. This book will get you unstuck and into action. Now is the time to jump and build your wings on the way down. But who says you're going to hit the ground? With Step One: Jump! you'll soar.
In this book you'll learn how to...
Exercise your dream muscle
Keep what is important to you on the front burner of life
Finally find the time for it all
Systematize and keep dreaming
To say, F you, resistance! and mean it
Eliminate your negative self-talk
This book is the tried and true blueprint to the life dreams are made of. Mandy Barton walks her talk, and oh boy, is it some talk! Writing this book for you is just one of the many dreams that she's made happen. And here it is. If she can do it, so can you!
Event date:
Saturday, September 24, 2016 -

11:00am

to

1:00pm
Event address:
306 Pearl Parkway
Suite 106

$23.73
ISBN: 9780997360806
Availability: Usually Ships in 1-5 Days
Published: Mandy Barton - May 20th, 2016
---