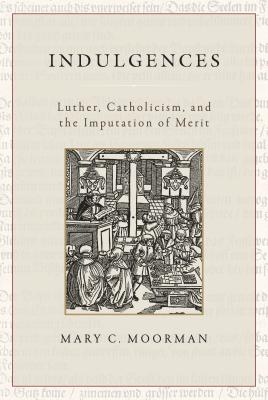 Mary C. Moorman brings her combined interests in law and theology to the fore in her initial work on the legal and theological framework which undergirds the Church's indulgences. Mary holds a Juris Doctor in law with a focus on religious legal systems from Boston University. She completed her work in medieval systematic theology at Yale and Southern Methodist University. She has lectured in both law and religion at Boston University, Southern Methodist University, and the University of New Haven. In addition to serving frequently as a conference speaker, her academic research has been presented at the 16th Century Society and the American Academy of Religion. Her most recent articles have appeared in "The Journal of Religion, Conflict, and Peace," "The Wesleyan Theological Journal," and the anthology "Seeing the Medieval: Realms of Faith and Visions for Today."
About Indulgences:
At the 500th anniversary of Martin Luther's 95 Theses and the dawn of the Protestant movement, this book sets forth a revised theological interpretation of the Church's practice of indulgences. The author argues that Luther's sola fide theology merely absolutized the very logic of indulgences which he sought to overthrow, while indulgences in their proper context remain an irreducible witness to the Church's corporate nuptial covenant with Christ, by which penitents are drawn into deeper fellowship with the Church and the Church's Lord.
Event date:
Wednesday, January 24, 2018 -

5:00pm

to

7:00pm
Event address:
306 Pearl Parkway
Suite 106

Email or call for price.
ISBN: 9781945125164
Availability: Special Order
Published: Emmaus Academic - August 31st, 2017
---