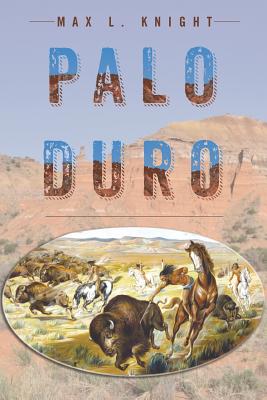 Max L. Knight was born in Panama in 1949, and was raised both in the Canal Zone and in San Antonio, Texas where he now resides with his wife, Janet "Gray". A proud graduate of Texas A&M University (Class of '73), he received a commission in the Regular Army and served twenty-four years as an Air Defense and Foreign Area Officer before retiring in 1997. Following the tragic events of 9-11-2001, he again served his country as a Counterintelligence Specialist through 2013. He has written and published two books to date: Silver Taps, a personal memoir of his relationship with his father and a tribute to his alma mater, and Palo Duro, a novel focusing on the Indian wars in the southwestern United States at the end of the nineteenth century.
About Palo Duro:
Westward expansion following the civil war ushered in an era of increased conflict between the Southern Plains Indians and white settlers. Peace treaties offered temporary suspension of hostilities, but more often than not resulted in broken promises as the two cultures clashed over land. The construction of frontier forts and towns, the decimation of the buffalo herds, the movement of cattle through Indian lands to burgeoning western markets, - all of these forces threatened a way of life that had existed for centuries.
The Comanche, the Southern Cheyenne, the Kiowa, the Apache all fought to protect their customs and homelands. The clashes were characterized by savagery on both sides - Indian and white. However, finite numbers and options would ensure the tribes' defeat; they faced certain death or forced relocation, and their days were numbered.
While the Indian wars are the focus of "Palo Duro," the novel also pays homage to the great cattle drives from Texas into Kansas, New Mexico, Colorado and Montana, the cowboys, and the gunslingers. The famous and the infamous -icons of the "Old West" populate its pages and bring new life to a genre that is fading from public consciousness - the western.
"Palo Duro" recalls an era characterized by heroism, brutality, bold ventures, lawlessness, and law enforcement. It is the story of the Southwest United States towards the end of the nineteenth century and an ode to the rugged individualism that made this country.
Event date:
Saturday, October 21, 2017 -

11:00am

to

1:00pm
Event address:
306 Pearl Parkway
Suite 106

$16.50
ISBN: 9781640278486
Availability: Usually Ships in 1-5 Days
Published: Page Publishing, Inc. - May 11th, 2017
---