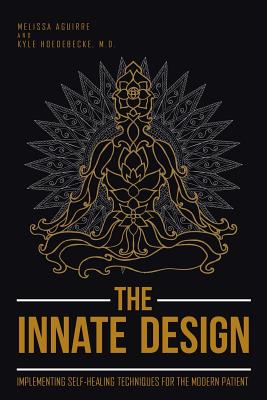 About Melissa Aguirre:
Melissa Aguirre is a nationally registered yoga therapist specializing in scientifically based holistic health practices and education. Founder of Melmarie Yoga and director of Trinity Healing Foundation, her passion for serving those who serve has led to the creation of her mindfulness based yoga therapy programs that serve the military population along with multiple wellness workshops and classes in holistic healing to her national audience. Melissa is a wellness speaker and teacher trainer of both new and advanced yoga teachers in in adaptive yoga.
About The Innate Design:
This book is an interdisciplinary collaboration between a yoga therapist and a family physician who have experienced the missing gap in allopathic medicine and are devoted to filling that void with holistic, sustainable 'prescriptions' to patients. As they both have witnessed these modalities, practices, and lifestyle choices be effective in the healing of their patients, Melissa and Kyle empower the reader through the utilization of treatment modalities such as yoga, the chakra system, and mindfulness to further healing and maintenance.
This cutting-edge book provides healthcare professionals and patients alike with a broader, intuitive lens in addressing a more participatory medical practice. Implementing the alternative modalities discussed here refine the patient/doctor relationship so patients are seen, met, and understood by their healthcare team and allows for improved clarity leading to sustained restoration and wellness preservation. This unique book provides the reader with a comprehensive system to eradicate imbalances that lead to disease while shining light on our innate design - supporting our mind, body, and spirit to live abundantly in all aspects of our being.
About Natalie Holland:
Natalie runs YourHouseOfHealing.com, a blog dedicated to wellness through rhythm, rest, nutrition education, and self-care. She is a pilates teacher and a registered yoga teacher. Natalie is a lover of life, family, and laughter. She lives in San Antonio with her husband, her daughters, and her fur babies
About Scarred But Smarter:
In a style reminiscent of a conversation with your best girlfriend, Natalie Holland gives readers a glimpse of what a cancer diagnosis looks like for a mom amidst a busy life with young kids and an often-deployed husband. She reveals that being faced with challenging and unchanging circumstances while being pressed from all sides actually gives us an opportunity for immense personal growth. "Scarred but Smarter: A Cancer Memoir" is full of honest insights, humor through dark moments, practical tips, and life lessons. Divided into two parts, the first half is a candid look at Natalie's experience with cancer. The second half explores wellness and covers everything from reducing toxic load to good nutrition and exercises. New to this second-edition book is an appendix with tips for chemo and mastectomy as well as an exercise protocol for rehabilitation after breast surgery. "Though I am presently cancer-free, and so very grateful to say that, I am reminded that life is neither the same nor as simple as it was before breast cancer. I find that though I am scarred, I am definitely smarter. Smarter about life, love, and health."
Event date:
Sunday, October 28, 2018 -

12:00pm

to

2:00pm
Event address:
306 Pearl Parkway
Suite 106

$13.99
ISBN: 9781504360029
Availability: Usually Ships in 1-5 Days
Published: Balboa Press - July 27th, 2016
---

Email or call for price.
ISBN: 9781508405719
Availability: Special Order
Published: Createspace - February 14th, 2015
---