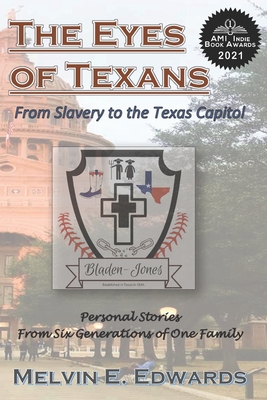 Melvin E. Edwards is a 6th-generation Texan, who was an award-winning newspaper reporter before he entered the colorful and ambitious world of Texas politics. He started his career writing about Texas high school football and within a few years, he was a speechwriter for the Lieutenant Governor and Governor of Texas.
He has the rarest Myers Briggs Personality Type in the world, which could explain why he loves cowboy hats, boots, baseball, and is able to imagine stories so big, they make even Texas seem small.

He currently lives in Maryland with his wife, Kimberly, and twin stepsons. His son is a mechanical engineer in Virginia. His daughters and grandchildren are 7th- and 8th-generation Texans, living in the Lone Star State.
About The Eyes of Texans: From Slavery to the Texas Capitol:
Once you meet Isaac Bladen, you'll never forget him.
The Eyes of Texans: From Slavery to the Texas Capitol is a new book by Melvin E. Edwards, an award-winning newspaper reporter/columnist, and a former legislative speechwriter for long-time Texas Lt. Governor and Governor Rick Perry. Edwards' thirty years of genealogy research confirmed family stories that had been told for decades, exposed some that weren't accurate, and discovered details that had long been buried.
These "first person" accounts will capture your attention and take you on a drive-by of the past 200 years of American and Texas history. Isaac Bladen was born into slavery on a farm just outside of Washington, D.C., in a town that is named after the family that enslaved him. He and his Virginia-born wife, Elvira, ended up in Texas in 1844 as enslaved farmers in Leon County, where they had a daughter, Louisa, who eventually married Amos Jones. Louisa and Amos became the parents of Walter Jones. Louisa was born 15 years before the Civil War and died four months after the end of World War II at the age of 99. Her son, Walter, and daughter-in-law, Anna Thorn, had a son they named Orlean Jones. Orlean and Alma Logan Jones became the parents of Ella Jones Edwards, the author's mother.
The Logans and the Bladens lived in the same county at the same time as early as 1856, though it would take decades before they crossed family lines when Orlean and Alma married in 1923. For more than 100 years, beginning in 1844, their ancestors lived in Leon County, Texas, as farmers and cowboys, before moving to Houston for a "fresh start."
Nearly two centuries after Isaac's birth in Bladensburg, Maryland, his great-great-great grandson rose to a key role at the Texas State Capitol just two hours away from where Isaac was enslaved for most of his life in Leona. This is a story of Texas through the eyes of true Texans. From a slave in the 19th century to a governor's speechwriter by the end of the 20th century.
It is a creative re-telling based on actual events and family stories.
Event date:
Sunday, January 17, 2021 -

12:00pm

to

2:00pm
Event address:
306 Pearl Parkway
Suite 106

$16.79
ISBN: 9798564057844
Availability: Usually Ships in 1-5 Days
Published: Independently Published - November 17th, 2020
---