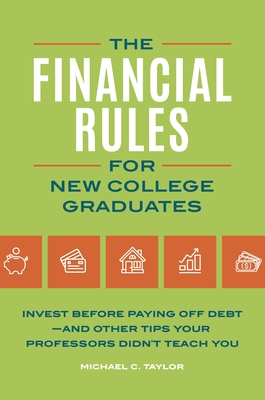 Michael C. Taylor sold bonds on Wall Street, founded and closed a private investment business, and dedicates himself to the mission of teaching, consulting, and writing about finance. He writes a weekly column for the San Antonio Express News and the Houston Chronicle and founded the finance blog www.bankers-anonymous.com.
About The Financial Rules for New College Graduates:
Having graduated from college with a degree, even the luckiest newly minted professionals—those who are able to quickly find a full-time job and support themselves—are often burdened with thousands of dollars in student loan debt. Many of these young professionals grow up hearing that they should not invest until their debt is paid off. Others fall too readily for investment scams or the siren call of instant entrepreneurship. Still others don't invest at all.

From financial expert Michael C. Taylor comes a proposed means by which to not only pull oneself out of debt but to start building wealth from the first day on the job: adoption of modesty, skepticism, and optimism. The Financial Rules for New College Graduates explains that by embodying modesty, the opposite of status-seeking ostentation; skepticism, the ability to recognize scams, false promises, and the hyperbole and short-sightedness of financial media; and optimism, the belief that financial security can be yours with little to no risk, anyone can attain financial security. The early chapters address the role of interest rates, compound interest, and discounted cashflows, while the remaining chapters explore each of the most consequential personal finance choices that recent graduates will make in the first ten years of their career.
Event date:
Thursday, July 19, 2018 -

5:00pm

to

7:00pm
Event address:
306 Pearl Parkway
Suite 106

Email or call for price.
ISBN: 9781440861055
Availability: Usually Ships in 1-5 Days
Published: Praeger - April 30th, 2018
---