Nancy De La Zerda
The 'It' Girls of La Sembradora
Thursday, November 19th 2015
6:00-8:00 pm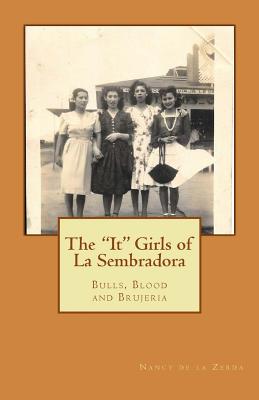 About The 'It' Girls of La Sembradora: Matadors are the "rock stars" for young girls in 1930s La Sembradora, a dusty village in northern Mexico. When a famous matador from Spain, El Victor, comes to town for the most coveted event of their lives, level-headed Inma and her fun-loving cousin Eva fuss in frenzy: Will their constant chaperone and man about town, the elegant Rico, invite them to the bullfight? Whatever shall they wear? Will El Victor attend the social after the bullfight? Are his eyes really green?
The girls go to hilarious lengths to look their best. While Inma's mother makes them beautiful dresses on her pedal-powered Singer sewing machine, the cousins "blackmail" Eva's sister Lola to secure accessories: high heels, hats, gloves and bags. Rico springs for a visit to La Cleopatra's beauty salon, the most exclusive in the region, where the girls get coiffed and buffed without telling their parents.
Meanwhile, an elderly neighbor, Doña Inez, reveals a fortune-teller's warning that something evil will occur the day of the big event. Eva and Inma ignore the gossip and get more than they bargain for at the social when they break rules of etiquette for girls their age and dance with El Victor. When a hysterical woman wielding a butcher knife chases the famous matador around the ballroom, the girls exit through the kitchen, leaving Lola's evening bags behind. The prediction of evil proves true but is open to interpretation after the bullfighter seeks out Eva and Inma the next morning, roses in hand. Inma's mother, a young widow, seems understanding of the girls' lapse in judgment and is "cool", even by today's standards. Lucky for the young cousins, who are forevermore labeled the "it" girls (las meras meras) of La Sembradora by their friends.
About Nancy De La Zerda: A native of San Antonio, the author is a graduate of Thomas Jefferson High School ('68); Our Lady of the Lake College ('71), B.A.English and Spanish; U.T. Austin ('77), Ph.d. Speech Communication. A former educator at both the university and secondary levels, Ms. De La Zerda enjoys writing short stories and sharing them with local writing groups. This is her first novel, a melodramatic tale set in 1930s Mexico that proves youthful adventure and girlish fun transcend time and place. De La Zerda is a member of the San Antonio Writers' Guild and attends writing classes at the Academy of Learning in Retirement.
Event date:
Thursday, November 19, 2015 -

6:00pm

to

8:00pm
Event address:
306 Pearl Parkway
Suite 106

$12.59
ISBN: 9781499780161
Availability: Usually Ships in 1-5 Days
Published: Createspace Independent Publishing Platform - June 3rd, 2014
---