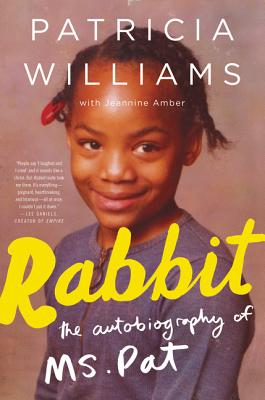 They called her Rabbit.
Patricia Williams (aka Ms. Pat) was born and raised in Atlanta at the height of the crack epidemic. One of five children, Pat watched as her mother struggled to get by on charity, cons, and petty crimes. At age seven, Pat was taught to roll drunks for money. At twelve, she was targeted for sex by a man eight years her senior. By thirteen, she was pregnant. By fifteen, Pat was a mother of two.
Alone at sixteen, Pat was determined to make a better life for her children. But with no job skills and an eighth-grade education, her options were limited. She learned quickly that hustling and humor were the only tools she had to survive. Rabbit is an unflinching memoir of cinematic scope and unexpected humor. With wisdom and humor, Pat gives us a rare glimpse of what it's really like to be a black mom in America.
* THE NEW YORK TIMES interview with Pat saying, "Rabbit tells how it went down with brutal honesty and outrageous humor in unexpected places."
* THE WASHINGTON POST profile of Pat, calling the book "Unforgiving and darkly hilarious."
* "WTF with Marc Maron Podcast" had a great conversation, with Marc saying "She was able to elevate her personal stories of horror, sadness, violence, insanity into something that people can understand and relate to and see into a world that many of us don't know."
Event date:
Sunday, October 1, 2017 -

11:00am

to

1:00pm
Event address:
306 Pearl Parkway
Suite 106

Email or call for price.
ISBN: 9780062407306
Availability: Hard to Find
Published: Dey Street Books - August 22nd, 2017
---