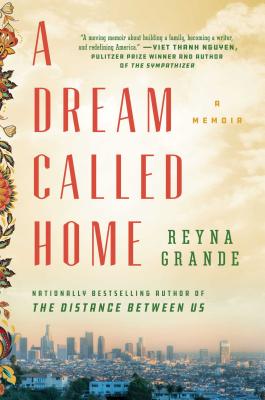 Reyna Grande is the author of three critically acclaimed books. The Distance Between Us, Grande's memoir about her life before and after illegally immigrating from Mexico the United States, was published by Atria Books on August 28, 2012. A finalist for the National Book Critics Circle Award, it was hailed by the L.A. Times as 'the Angela's Ashes of the modern Mexican immigrant experience.'
Grande's first novel, Across a Hundred Mountains (Atria 2006), received a 2007 American Book Award, and the 2006 El Premio Aztlán Literary Award. Her second novel, Dancing with Butterflies (Washington Square Press 2009) was the recipient of a 2010 International Latino Book Awards. All three books have been read widely in schools across the country and have been very popular with book clubs. Across a Hundred Mountains and Dancing with Butterflies have also been published internationally. Born in Mexico, Reyna was two years old when her father left for the U.S. to find work. Her mother followed her father north two years later, leaving Reyna and her siblings behind in Mexico. In 1985, when Reyna was going on ten, she entered the U.S. as an undocumented immigrant to live with her father. She went on to become the first person in her family to graduate from college. Reyna holds a B.A. in creative writing and film & video from the University of California, Santa Cruz. She received her M.F.A. in creative writing from Antioch University. Reyna Grande teaches creative writing for UCLA Extension and speaks at high schools, colleges, and universities across the nation.
About A Dream Called Home:
When Reyna Grande was nine-years-old, she walked across the US–Mexico border in search of a home, desperate to be reunited with the parents who had left her behind years before for a better life in the City of Angels. What she found instead was an indifferent mother, an abusive, alcoholic father, and a school system that belittled her heritage.
With so few resources at her disposal, Reyna finds refuge in words, and it is her love of reading and writing that propels her to rise above until she achieves the impossible and is accepted to the University of California, Santa Cruz.
Although her acceptance is a triumph, the actual experience of American college life is intimidating and unfamiliar for someone like Reyna, who is now once again estranged from her family and support system. Again, she finds solace in words, holding fast to her vision of becoming a writer, only to discover she knows nothing about what it takes to make a career out of a dream.
Through it all, Reyna is determined to make the impossible possible, going from undocumented immigrant of little means to "a fierce, smart, shimmering light of a writer" (Cheryl Strayed, author of Wild); a National Book Critics Circle Award Finalist "speak[ing] for millions of immigrants whose voices have gone unheard" (Sandra Cisneros, author of The House on Mango Street); and a proud mother of two beautiful children who will never have to know the pain of poverty and neglect.
Told in Reyna's exquisite, heartfelt prose, A Dream Called Home demonstrates how, by daring to pursue her dreams, Reyna was able to build the one thing she had always longed for: a home that would endure.
Norma E. Cantú, currently serves as the Norine R. and T. Frank Murchison Distinguished Professor of the Humanities at Trinity University in San Antonio. She has published widely in the areas of folklore, literary studies, women's studies and border studies. As editor of two book series: Literatures of the Americas for Palgrave and Rio Grande/Rio Bravo for Texas A&M Press, she fosters the publication of critical scholarship on Latinas and Latinos. Her numerous publications include the award winning novel, Canícula: Snapshots of a Girlhood en la Frontera that chronicles her coming of age in Laredo, Texas. The (co)edited volumes: Chicana Traditions: Continuity and Change, Dancing Across Borders: Danzas y Bailes Mexicanos, Paths to Discovery: Autobiographies of Chicanas with Careers in Mathematics, Science and Engineering, Moctezuma's Table: Rolando Briseño's Chicano Tablescapes, and Ofrenda: Liliana Wilson's Art of Dissidence and Dreams, and Barrio Dreams: The Plays of Silviana Wood and with Inés Hernández Ávila, Entre Guadalupe y Malinche: Tejanas in Literature and Art. Her collaborative work with artist Marta Sánchez, Transcendental Train Yards, was recently published. She is cofounder of CantoMundo, a space for Latin@ poets and a member of the Macondo Writers Workshop; her poetry has appeared in Vandal, Prairie Schooner, and Feminist Studies Journal among many other venues. She is currently working on two poetry collections, Border Meditations/Meditaciones Fronterizas: Poems of Life, Labor, and Love, and Elemental Odes. Meditaciones will be out in fall 2019. Her novel Cabañuelas: A Love Story will be published in February. She is at work on another novel, Champú or Hair Matters, as well as several scholarly projects.
Call 210-826-6411 to reserve books. We can have your book signed for you even if you can't make it. Please pay in advance to guarantee held or signed books.
Please buy books to be signed directly from us.
Get here early enough to find parking. We recommend under 281 or in the parking garage whose entrance is on Koehler St, unless you are lucky enough to find a head-in place on Pearl Parkway. The lot across the footbridge from Hotel Emma is a lovely stroll too.
Event date:
Monday, October 29, 2018 -

6:00pm

to

8:00pm
Event address:
306 Pearl Parkway
Suite 106

Email or call for price.
ISBN: 9781501171420
Availability: Hard to Find
Published: Atria Books - October 2nd, 2018
---