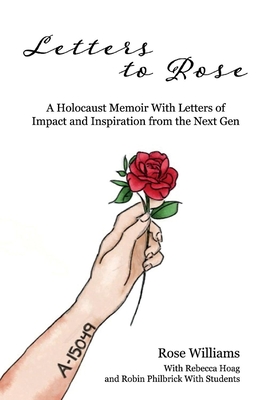 This event will be held at the Pavilion at Pearl.
Rose Sherman Williams was born in Radom, Poland in 1927. In 1939, when she was twelve years old, Nazis invaded. In 1942, she was separated from her family and sent to Auschwitz, then to Bergen-Belsen. In 1945, she was liberated by British soldiers, and today tells her tale to the last generation who will know a Holocaust survivor.
Letters to Rose was compiled over several years, and expresses the instant and enduring bond between young students and a courageous, resilient woman. Some drew from her strength and found parallels in their own lives, while others swore to defy the deniers and to never become bystanders.
Robin Philbrick is a retired English teacher from San Antonio, Texas. When teaching the Holocaust to her students, she brought her rich experience as a military spouse living in a divided Berlin, Germany. Her lesson plans included photos, artifacts and observations from places such as Dachau and Bergen-Belsen concentration camps, Hitler's Eagles Nest, and the Wannsee residence where the Final Solution was crafted. But the key element in her lesson plan each year was the precious time spent with Holocaust survivor Rose Sherman Williams whose incredible story created an enduring bond that led to Letters to Rose.

Rebecca Ebner Hoag, a veteran high school English teacher of thirty-six years, has been involved with teaching the Holocaust both in the classroom and, upon retirement, through the education program at the Holocaust Memorial Museum of San Antonio. In 2010, Hoag co-authored a book called Our Voices/Our LIves: Twenty Holocaust Survivors Remember, published by the museum to memorialize local survivors. Her twelve-year close relationship with survivor Rose Williams is the basis for Williams' entrusting Hoag to tell her story, setting personal events in their historical context.

About Letters to Rose:
When Rose Sherman Williams was just twelve years old, the Nazis invaded her hometown in Poland. Subject to the ravages of World War II and the dehumanization of Polish Jews by the Nazis, each day was a fight for survival. Now in her nineties, this remarkable woman continues to share her story in hopes that it inspires courage and resilience, and touches the lives of those who hear it. For six years, the teenager whose childhood had been stolen from her fought both oppression and depression. She endured physical beatings, starvation, and transfers from one labor camp to another. In 1944, having been deported to the notorious Auschwitz extermination camp, she had a bizarre encounter with the Angel of Death, Dr. Josef Mengele, himself. A death march ultimately led her to one of the most despicable camps of all: Bergen-Belsen. But miraculously, she survived to be liberated. Now, her retelling vividly recalls one of the darkest moments in human history, but her message is as equally important as her tale. Letters to Rose goes beyond the conventional Holocaust memoir. It evidences her impact on the next generation by incorporating their letters throughout the text. Coupled with Rose's story, it provides a memorable read for all ages. Her resourcefulness, faith, and love for mankind fills her audiences with hope and inspiration.
Event date:
Monday, June 10, 2019 -

5:30pm

to

7:00pm
Event address:
306 Pearl Parkway
Suite 106

$14.99
ISBN: 9781543963342
Availability: Usually Ships in 1-5 Days
Published: BookBaby - May 19th, 2019
---