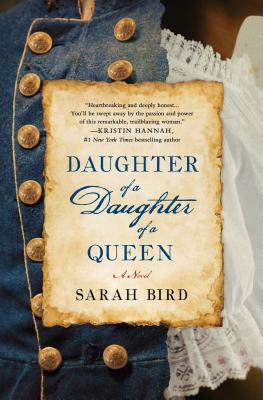 Sarah Bird's novel, Above the East China Sea, was long-listed for the Dublin International Literary Award. A Dobie-Paisano Fellowship helped in researching Daughter of a Daughter of a Queen. Raised in an Air Force family on bases around the world, Sarah is the child of two warriors, a WWII Army nurse and an Air Corps bombardier, who met at a barn dance in North Africa. She lives in Austin, Texas.
About Daughter of a Daughter of a Queen:
"The compelling, hidden story of Cathy Williams, a former slave and the first woman to ever serve in the US Army "Here's the first thing you need to know about Miss Cathy Williams: I am the daughter of a daughter of a queen and my Mama never let me forget it." Missouri, 1864 Powerful, epic, and compelling, Daughter of a Daughter of a Queen shines light on a nearly forgotten figure in history. Cathy Williams was born and lived a slave until the Union army comes and destroys the only world she's known. Separated from her family, she makes the impossible decision, to fight in the army disguised as a man with the Buffalo Soldiers. With courage and wit, Cathy must not only fight for her survival and freedom in the ultimate man's world, but never give up on her mission to find her family, and the man she loves. Beautiful, strong, and impactful, Cathy's story is one that illustrates the force of hidden history come to light, the strength of women, and the power of love".
What people are saying...
"Daughter of a Daughter of a Queen is Sarah Bird at her very best--witty, heartbreaking, and deeply honest. The carefully researched, richly imagined story of Cathy Williams is a beautiful reminder of a forgotten part of women's history. You'll be swept away by the passion and power of this remarkable, trailblazing woman who risked everything to follow her own heart." - Kristin Hannah, #1 New York Times bestselling author
"Bird's fast-paced, action-packed story is a bittersweet one--grand love and legacy ultimately eluded Williams--but this fearless, often heartbreaking account sheds a welcome light on an extraordinary American warrior." - Publisher's Weekly, Starred Review
"Bird crafts a number of clever scenarios that build tension around Cathy's disguise as a man, creating a not-to-be-missed read for fans of historical military fiction and strong female protagonists." - Library Journal Review
"Bird conveys with epic sweep how Williams's origins as the granddaughter of an African queen buttressed her strength and verve, whether on the frontlines fighting for westward expansion or, more personally, in the joys and heartbreak of life as an iconoclastic, irrepressible American hero." - National Book Review
Event date:
Thursday, September 27, 2018 -

6:00pm

to

8:00pm
Event address:
306 Pearl Parkway
Suite 106

Email or call for price.
ISBN: 9781250193162
Availability: Special Order
Published: St. Martin's Press - September 4th, 2018
---