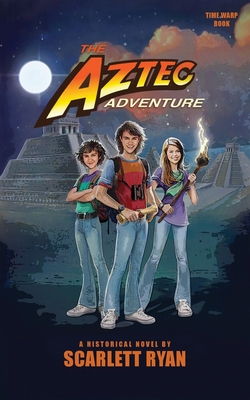 Scarlett Ryan is currently a Middle School history teacher at a private school in San Antonio, Texas. Previously, she taught for twenty-seven years in North East Independent School District in San Antonio. She wrote over 400 short stories for Harcourt Inc., a text book and testing company, for many years. In addition to reading and writing about all kinds of history and its people and events, she enjoys traveling and visiting museums. Ms. Ryan has always loved adventure and has always been curious about how people lived in past centuries and in different countries.
About THE AZTEC ADVENTURE:
Ben and David are joined by their cousin, Rhys, for their second time-travel adventure. This time, fate takes them to Mexico during the time of the Spanish conquerors in the early to mid 1500s led by Hernan Cortes.
They enlist the help of a native inhabitant to complete a mission for a priest who arrived with the Spaniards—Bartolome de las Casas. The priest intends to inform King Charles V, Holy Roman Emperor, of the injustice being done to the native people of Mexico. Cortes seeks to intercept the priest's information before it gets into the hands of the Emperor.Let the characters take you with them on their time-traveling mission to a period of Mexico's colorful history!
Event date:
Saturday, February 29, 2020 -

11:00am

to

1:00pm
Event address:
306 Pearl Parkway
Suite 106

$14.95
ISBN: 9781880292150
Availability: On Our Shelves Now
Published: Langmarc Publishing - November 22nd, 2019
A time-warp historical novel geared towards fifth-grade readers and older takes three young people on an adventure from camp to the lives of the Aztec population in Mexico. Ideal for history classes and pleasure reading.
---