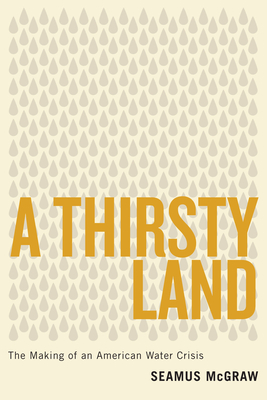 Seamus McGraw is the author of a few books, including the critically acclaimed The End of Country: Dispatches from the Frack Zone, and the forthcoming Betting the Farm on a Drought: Stories from the Front Line of Climate Change. Seamus has been a regular contributor to many publications, including the New York Times, the Huffington Post, Reader's Digest, Stuff magazine, Spin, and The Forward. He has won a number of journalism awards. A father of four, he lives in the woods of northeastern Pennsylvania with his wife, Kren, his children, and a neighborly bear named "Fardels" with boundary issues.
About A Thirsty Land: The Making of an American Water Crisis:
As a changing climate threatens the whole country with deeper droughts and more furious floods that put ever more people and property at risk, Texas has become a bellwether state for water debates. Will there be enough water for everyone? Is there the will to take the steps necessary to defend ourselves against the sea? Is it in the nature of Americans to adapt to nature in flux?
The most comprehensive—and comprehensible—book on contemporary water issues, A Thirsty Land delves deep into the challenges faced not just by Texas but by the nation as a whole, as we struggle to find a way to balance the changing forces of nature with our own ever-expanding needs. Part history, part science, part adventure story, and part travelogue, this book puts a human face on the struggle to master that most precious and capricious of resources, water. Seamus McGraw goes to the taproots, talking to farmers, ranchers, businesspeople, and citizen activists, as well as to politicians and government employees. Their stories provide chilling evidence that Texas—and indeed the nation—is not ready for the next devastating drought, the next catastrophic flood. Ultimately, however, A Thirsty Land delivers hope. This deep dive into one of the most vexing challenges facing Texas and the nation offers glimpses of the way forward in the untapped opportunities that water also presents.
Event date:
Sunday, April 8, 2018 -

12:00pm

to

2:00pm
Event address:
306 Pearl Parkway
Suite 106

Email or call for price.
ISBN: 9781477310311
Availability: Special Order
Published: University of Texas Press - May 9th, 2018
---