David Crabb
Bad Kid
Thursday, June 04
7:00-9:00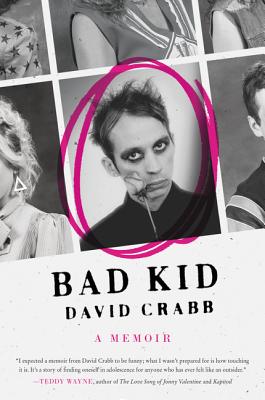 David Crabb's BAD KID, an adaptation of his award winning solo show, perfectly captures the awkward moment in life when you are suddenly shoved from a safe and happy childhood into the terrifying realm of the teenager. Refreshingly honest and hilarious, Crabb's journey through adolescence captures the essence of every person's struggle to understand his or her true self.
Growing up, David thought every guy preferred braiding his girlfriend's hair to making out and that funny feeling while watching Silver Spoons had nothing to do with Ricky Schroder. While listening to George Michael's Faith, David finally recognized what the high school bullies already knew: he was gay.
David was rescued from a fate of humiliating gym classes and a high school experience that defined awkward by a group of outlandish friends who reveled in being outsiders. He found himself enmeshed with misfits: wearing black, cutting class, dropping acid, chain-smoking, and idolizing The Smiths, Pet Shop Boys and Joy Division. BAD KID has something for everyone with characters a diverse as Sylvia, the sassy Goth queen; Max, a member of SHARP – a straight edge community who beef with the local Skinheads; Greg, David's best friend who joins him on his pursuit of drugs and sex; and David's parents, who struggle to understand David's changing behavior.
Vivid and engaging, Crabb writes with the expert timing of a comedian as he details his passage from first cars and the hormone-crazed trials of high school, to drugs, night clubs, and sexual experimentation. Richly detailed with 90's pop-culture, BAD KID is as charming as it is poignant.
About the Author
DAVID CRABB is a performer, writer, teacher & storyteller in New York City. He is a Moth Story Slam host and three-time Moth Slam winner. His solo show "Bad Kid" was met with critical acclaim from The New York Times, MTV, Flavorpill, NY Metro and many others, and named a New York Times Critics' Pick. The show has been performed in NYC since 2011 & completed a sold-out run in Virginia in 2013. "Bad Kid" will play in Texas and California in 2015.
Event date:
Thursday, June 4, 2015 -

7:00pm

to

9:00pm
Event address:
306 Pearl Parkway
Suite 106

$14.99
ISBN: 9780062371287
Availability: Special Order
Published: Harper Perennial - May 19th, 2015
From comedian, storyteller, and The Moth host David Crabb, comes a music-filled, refreshingly honest coming-of-age memoir about growing up gay and Goth in San Antonio, Texas. 

---