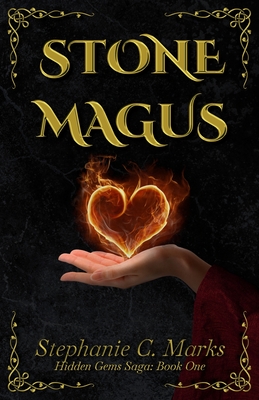 Stephanie C. Marks is the author of the Hidden Gems Saga. She began writing poetry and short stories as early as 1993, then transitioned into academic non-fiction and published several times over a decade. After completing her formal education, in January 2020 she turned back to her first loves, fantasy and romance.
Her current works are all part of the six-book epic Hidden Gems Saga. Even though she tries, Stephanie doesn't know how to take breaks. This results in very little sleeping, and a lot of writing.
Other than losing herself in Neuralia, her favorite past-times are playing tabletop games with friends and spending time in the ocean. But, until she can figure out how to stop losing dice in the sand, the two hobbies remain independent of one another.
She holds three academic degrees in biology. In the real world, her days are filled with science, and her nights with family. Most of her free moments are spent with her two children and husband who loves and supports her in a way only found in romance novels.
About Stone Magus:
In life, love, and family, there is always strength in numbers.
Something is off balance between the Windsong Sisters, and for Opal and Ruby, the terrible might of their powers may just lead them to catastrophe—or clarity. As half-elf mages in the service of the Order of Aiuna, the sisters spend their days collecting and preserving anything that magic touches, and as their mission takes them further back into their past, the darkness that awaits them there threatens to destroy everything they hold dear.
Despite the dark smoke rising around them, Opal is finding it hard to ignore the flames flickering between herself and Baerdun. There's just something about it that makes her feel weak, and not just in the knees. With so much happening around them, it's becoming much harder to keep her heart her own.
After everything they've lost—what if they lose themselves as well?
Enter a world where shadows exist within and without, and follow Opal, Ruby, and Baerdun down a path that will either bring them together or force them apart.
***WARNING: Stone Magus contains adult sexual themes, violence, and other explicit content that could distress some readers. Proceed with caution.***
Event date:
Saturday, July 10, 2021 -

11:00am

to

1:00pm
Event address:
306 Pearl Parkway
Suite 106

$18.99

ISBN: 9781736539606
Availability: Usually Ships in to Twig 1-5 Days
Published: Scmarks Books - May 4th, 2021
---