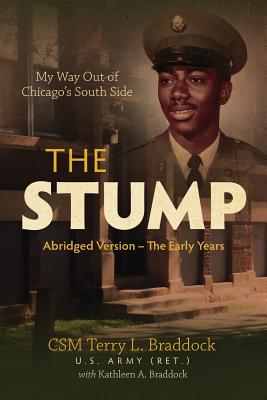 Command Sergeant Major Terry L. Braddock (US Army, retired) grew up on the South Side of Chicago during the turbulent and challenging civil rights years. Parents and grandparents instilled in him strong family values and gave him the strength, love, and will to persevere. Having but not knowing what a mentor was at an early age provided the foundation for the path he was to follow. He currently resides in San Antonio and is married to his best friend, wife, and soul mate, Kathleen.
About The Stump:
Three guys I didn't recognize stood outside the door as I came down the steps of a Chicago apartment building. I had just finished up collecting newspaper fees for delivering the daily paper. One stepped inside, walked toward me, and said, "What's up?" I looked at him and said, "What's up with you?" As he stepped closer I saw a gun in his waistband and it made me think of my father, who always said, "Think before you react, son." If I reach for his gun, I thought, he could be faster than me. He also had buddies just outside the door. My decision was made for me when the boys stepped into the hallway and surrounded me. It took me only a second to think, Is your life worth ninety bucks of newspaper collection fees? I pulled the money out of my pocket and handed it over, and he said, "Now that's what I'm talking about." He pulled out his gun, pointed it at me, and pulled the trigger.
I knew at a young age in my city of Chicago that more bad things were happening than good, especially for me, an African American growing up in the '60s and '70s, living on the South Side. Given that, our teachers should have been our role models. Yet when held after class one day, my teacher told me, "To set you on the right path, I want you to strive to be . . . a custodian." I jumped up and said, "I don't want to be no janitor." He said, "Now, now, you're a 'N' and there's not a lot of opportunities for 'N's."
I ran to the Stump, the crumbling steps of an apartment building where I knew Mrs. Hannaberry would be, and I told her what my teacher had said. She hugged me and responded, "You are better than this, and you are going to do better. Let no one tell you different. The first thing you must do is believe in yourself. Do you believe?"
The Stump prepared me for my life-long journey. It shaped me to see a brighter future, realize I had a future. It all started at the Stump--my way out.
Event date:
Sunday, July 28, 2019 -

12:00pm

to

2:00pm
Event address:
306 Pearl Parkway
Suite 106

$9.95
ISBN: 9780999151655
Availability: Usually Ships in 1-5 Days
Published: Terry L. Braddock - January 30th, 2018
---