W.W. McNeal
Plum Creek
Sunday, November 27th 2016
11:00-1:00 pm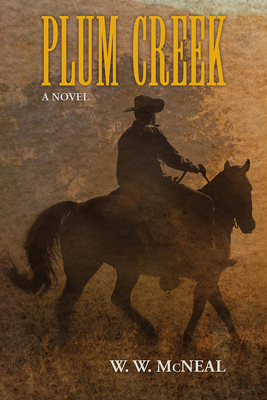 About W.W. McNeal: W. W. McNeal is a retired trial lawyer and a sixth-generation Texan. He lives on a Caldwell County ranch in Central Texas that has been in his family since 1850. The 436 acre spread backing up to the San Marcos River was purchased from the first grantees and the original 1850 deed to the property is locked securely in a desk that belonged to his great grandfather.
McNeal has been a long time student of history, particularly Texas history. He grew up on the ranch he lives on now, an only child fascinated by Texas lore and the natural environment that surrounded him. Plum Creek is not only a piece of Texas historical fiction but an homage to the area in which Bill came of age.
A student at the University of Texas at the same time that J. Frank Dobie and Walter Prescott Webb were teaching there, McNeal's inherent love of Texas and respect for early settlers and Texas Rangers gained focus. Throughout the years, he continued to study and envision what Texas life was like in the years after the civil war. Plum Creek is the product of those many hours of research and imagination.
About Plum Creek: Plum Creek is a historical novel set in nineteenth-century Texas. It is a coming-of-age story involving Billy McCulloch, a fifteen-year-old boy who accompanies a former Texas Ranger, a black man, and two of his uncles on a quest to rescue a fourteen-year-old girl. The girl was captured by a band of renegades led by a half-breed Comanche killer after they slaughtered the rest of her family in a raid on their home in rural Central Texas.

The pursuit of the renegades is set against a backdrop of post-Civil War Texas, just beginning to recover from the devastation of war and Reconstruction. The character of the former Texas Ranger is loosely based on John Coffee Hays, known as Jack Hays, who was called "Devil Yack" by many Mexican and Native American people because of the fame he won fighting in the Mexican War and, before and after, fighting the Comanches.

As Billy and the older men ride, Texas is emerging into a new age around them. A new social structure is taking hold, the old ways of life are dying, and the future is uncertain
Event date:
Sunday, November 27, 2016 -

11:00am

to

1:00pm
Event address:
306 Pearl Parkway
Suite 106

$22.95
ISBN: 9780875656410
Availability: Usually Ships in 1-5 Days
Published: Texas Christian University Press - October 31st, 2016
---